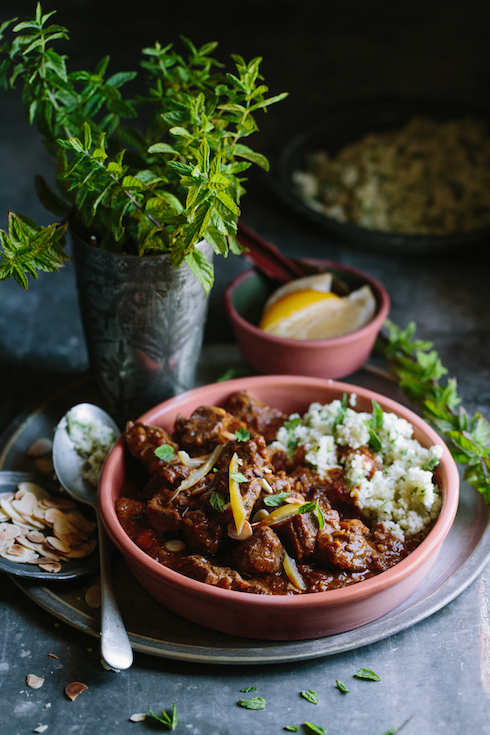 There are few things as inviting as the smell of a fragrant, spicy, exotic lamb tagine bubbling away in your kitchen. I used a dry harissa spice blend that you'll be able to find in most supermarkets, but a fresh harissa paste will also work well. Adjust the heat by adding more dried/fresh chillies to your liking, if necessary. I prefer a fragrant tagine that is more spicy than hot.
Preserved lemon is a magical yet common Middle Eastern and Mediterranean ingredient made with lemons, coarse salt and water. It has a very distinctive taste – you only use the rind, sliced. Specialty stores stock it now and then in SA, but you can also easily make your own (it takes 3 months to mature, but it will last for years on the shelf, unopened). If you cannot find preserved lemon, substitute it with fresh lemon rind, finely grated.
Ingredients: (serves 6)
60 ml olive oil
1,2 kg boneless lamb (or mutton), cubed into bite size portions
salt & pepper
10 ml cake flour
1 large onion, chopped
3 garlic cloves, chopped
10 ml dried ground harissa spice blend (or 15 ml harissa paste)
10 ml ground cumin
10 ml ground coriander
5 ml ground ginger
15 ml ground paprika
1 liter warm lamb stock (or chicken stock)
1/2 cup dried pitted dates (or dried apricots, sliced)
1/2 preserved lemon, skin only, sliced into strips (plus more for serving)
a handful flaked almonds, toasted, for serving
a handful mint and/or coriander leaves, for serving
cooked cousous or rice, for serving
Method:
Heat the oil in a heavy based large pot (or tagine) over high heat. Fry the meat cubes in batches, seasoning with salt & pepper. Add the flour to the last batch and stir well for one minute before removing the cubes from the pot. Turn down the heat to low.
Add the onion & garlic and fry for about 3-5 minutes until it is soft. Turn up the heat to medium, then add the harissa, cumin, coriander, ginger and paprika. Stir for one minute.
Add the stock and stir well with a wooden spoon to loosen all the sticky bits on the bottom. Add the fried meat back to the pot, along with the dates and preserved lemon. Stir and bring to a simmer over low heat. Cover with a lid and cook for 2 hours or until the meat is really tender, stirring every 20 minutes to prevent the bottom from burning (the dates have a high sugar content).
When the meat is tender, remove from the heat and adjust seasoning if necessary. Serve hot with couscous or rice, topped with more preserved lemon rind, toasted flaked almonds and fresh mint/coriander.
Note: This tagine can be made a day ahead and reheated before serving as the flavours improve on standing (store in the refigerator overnight). Freezes very well.
This is the fourth recipe in a series of four Mediterranean-inspired Autumn/Winter dishes for Lamb & Mutton SA. Also check out my recipes for Greek-style 8-hour leg of lamb with origanum & lemon, Italian-style lamb & tomato ragu with gnocchi, and easy lamb chop bourguignon.