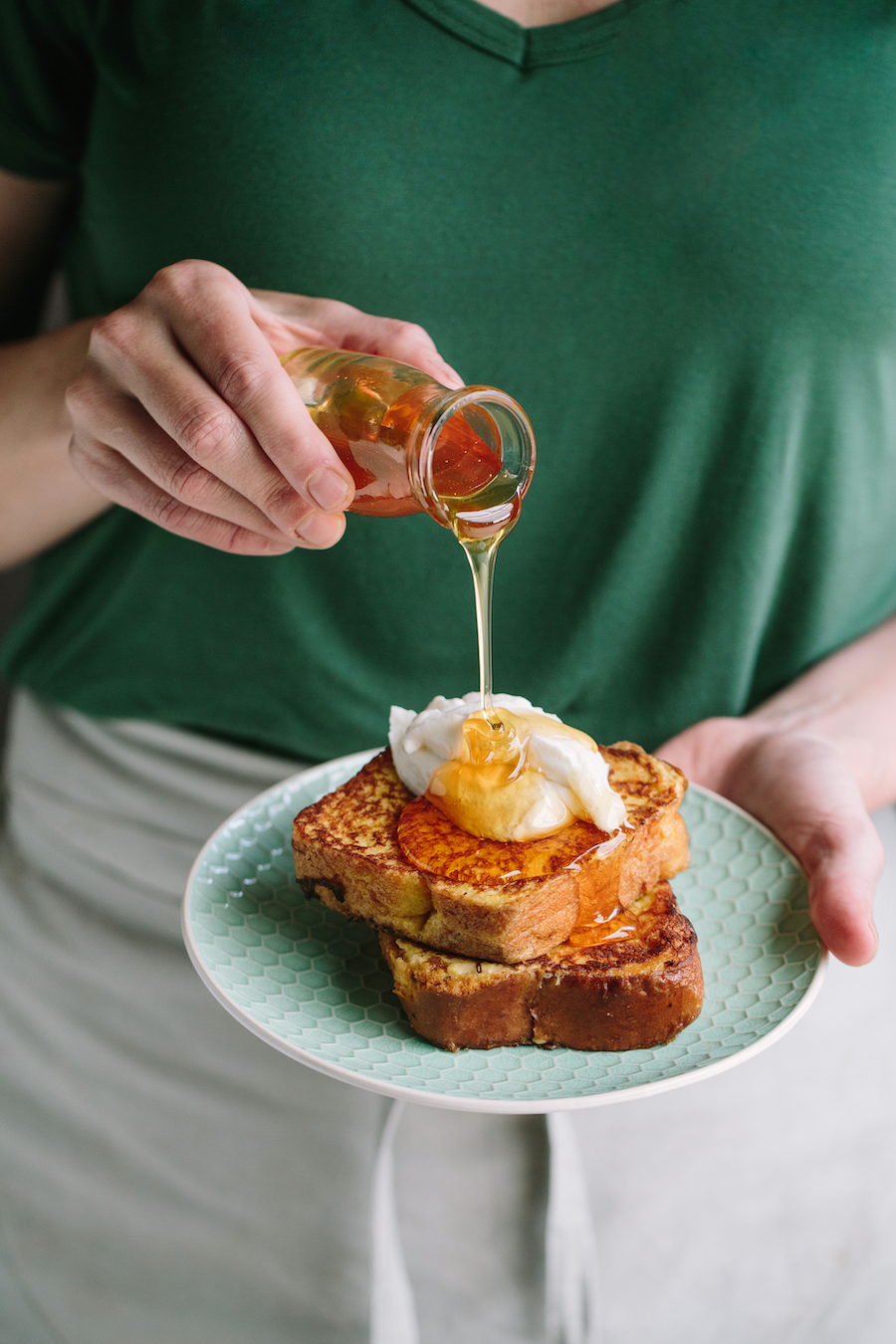 This easy and indulgently delicious recipe was meant to be included in my latest book, Simply Seasonal, but we had to cut a few recipes right at the end (to fit into the printing format) and this one sadly didn't make it to print. It certainly deserves a place in the digital sphere, though! And with all the Black Friday Specials coming up shortly, I'm sure we can do with some budget friendly meals to leave space for the big splurge.
This is the kind of special breakfast that can be made to treat a loved one on their birthday (in bed, of course), but the ingredients are really simple and can be found year round in most supermarkets. I prefer using a brioche like a mosbolletjie loaf (these days you'll find it in many supermarkets), but you can also use regular white bread, thickly sliced. The creamed ricotta is, in my opinion, so much better than just whipped cream – it is light and rich at the same time, so delicious.
Note: If you have the time, you can also opt for making your own ricotta using 2 litres of full-cream milk, some fresh lemon juice and a pinch of salt ‒ the recipe is on my blog.
(Serves 4)
For the creamed ricotta:
250 g (1 cup) ricotta cheese (smooth or regular)
125 ml (½ cup) fresh cream (if you've bought a 250 ml tub, you'll be using the other half below)
For the French toast:
3 extra-large eggs
125 ml (½ cup) fresh cream
60 ml (¼ cup) milk
a generous pinch of salt
2.5 ml (½ teaspoon) vanilla extract
4-8 very thick slices soft white bread, brioche or mosbolletjies
butter, for frying
honey, for drizzling
Method:
For the creamed ricotta, place the ricotta and cream in a blender and process until smooth and spreadable (you can also use electric beaters, but you'll get a smoother result with a blender). Cover and refrigerate until ready to serve.
For the French toast, whisk the eggs, cream, milk, salt and vanilla together in a wide deep baking dish (about 20 x 20 cm). Dip the bread slices in the mixture, leaving them to soak up the egg mixture for a minute or two a side. In a non-stick wide pan over medium heat, melt a tablespoon of butter, then fry the bread until golden on both sides (work in batches, adding more butter, if needed). Serve warm on plates, topped generously with the creamed ricotta and drizzled with honey.