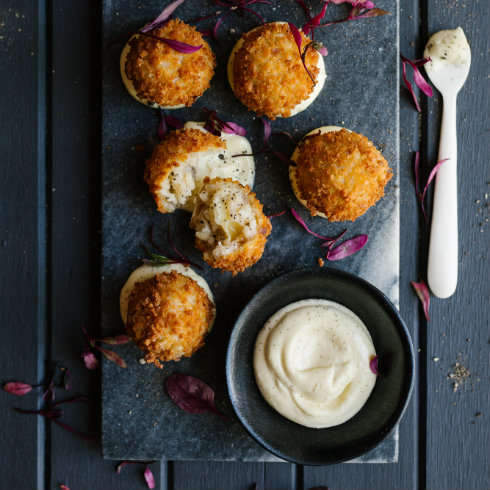 The Italians have a wonderful way of using up leftover risotto. They shape the cold rice mixture into balls, stuff the centres with cheese, cover the balls with breadcrumbs and deep-fry the lot to make arancini.
These little golden nuggets are just delightful. I prefer to use smoked mozzarella for the centres and serve the arancini with thick homemade garlic mayonnaise. It's a great snack for welcoming guests at your festive dinner party this season, because you can prep them beforehand and drop them in the hot oil just before serving.
If you'd love to serve them on a flat board or slate tile, pipe some mayo on the board and place the arancini on the mayo to prevent them from rolling off.
One warning though: these are super addictive! Prepare to eat more than you think you will.
Ingredients: (serves 6 as a snack/canapé)
about 2 cups prepared left-over risotto, cooled (any flavour will do, but I love using saffron risotto or wild mushrooms risotto)
100 g smoked mozzarella, cubed 1 x 1 cm
1/2 cup flour
salt & pepper
3 eggs, lightly whisked
2 cups fresh bread crumbs
750 ml canola oil
Take a small tablespoon of cold risotto and fill it with a cube of mozzarella. Shape the risotto to cover the cheese and roll it into a neat ball (cold risotto is easier to shape). Continue until all the risotto is used.
In a shallow bowl, mix the flour with some salt & pepper. Place the bread crumbs in another shallow bowl, and the eggs in another.
Dip each risotto ball into the seasoned flour, then into the egg and then into the breadcrumbs, covering it all over. Place on a clean plate and repeat.
Heat the oil to about 180 C, then fry batches of arancini until golden all over – about 3 minutes.
Serve with aioli.
For the aioli:
2 egg yolks
1 clove garlic
1 teaspoon Dijon mustard
30 ml lemon juice or apple cider vinegar
salt & pepper
about 180-250 ml canola oil
In a blender or food processor, add the yolks, garlic, mustard and lemon juice. Season with salt & pepper then blend well. With the motor running, add the oil in a thin stream until fully incorporated and thick and creamy. Transfer to a glass jar and refrigerate until ready to use.
Tip: Use a small plastic bag to pipe blobs of aioli onto a serving board, then "stick" the arancini onto each piped blob to keep from rolling around.
Credits:
Recipe, food preparation, food styling & text: Ilse van der Merwe
Photography & styling: Tasha Seccombe
This recipe has been featured on The Pretty Blog.