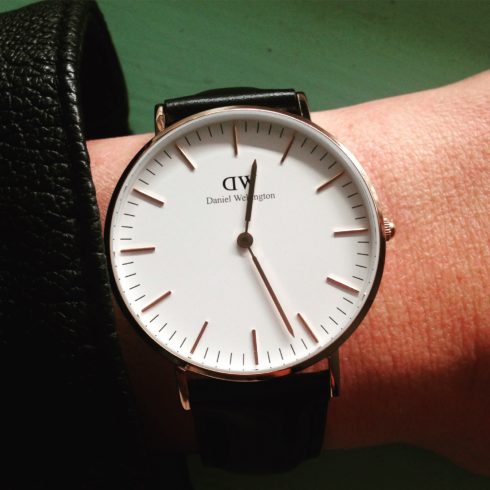 The last time I bought a watch was in 1995 – 21 years ago. It seems fair that I needed an upgrade. The team from Daniel Wellington sent me this beautiful Classic Sheffield watch yesterday and I feel like royalty wearing it. It is timeless (a little ironic for a time telling instrument, I know) and so elegantly minimalistic with a round white face, beautiful rose gold trimmings and a black Italian calf leather strap to match my daily black leather jacket "uniform".
So it's only apt to consider time at this point in my life, without being too sentimental. Apart from running a tight ship with my daily schedule from hour to hour – especially when I'm prepping for shoots and dinners, I've made an effort to make more time for myself and for the people around me since the beginning of the year. A month ago, I've started to make time for reading at night before I go to bed – a few minutes of silent page-turning me-time each day – no smart phones or laptops in sight. I read The Alchemist again, reminding me that life can take you on many different roads and that you should always trust your instincts.
It was time to simplify my life – we moved into a smaller space in the heart of town a few weeks ago and got rid of all the things that gathered dust in our garage. Because of our new location, I now have more time in the morning to spend with my family. I traded rushed mornings and sticky traffic for slower breakfasts and swift commutes.
It is already the beginning of June and soon we'll reach the shortest day of the year. Winter is upon us and I cannot wait to embrace the dark and dreary comfort of an old friend: the cold and wet winter season in Stellenbosch. If I'm lucky, I'll still be around in November to celebrate my crazy 39 years on planet earth before hitting the big four-oh in 2017.
2017? Really? Where has the time gone? Nowhere. We're in it. We're here. We're doing this.
They say the only two luxuries in life are time and silence. As I'm writing, I realize I have both in this moment. Smiling. Thankful.
Note: The friendly people from Daniel Wellington are offering you a fabulous 15% discount on your next purchase. Go to www.danielwellington.com and use this code: thefoodfoxDW