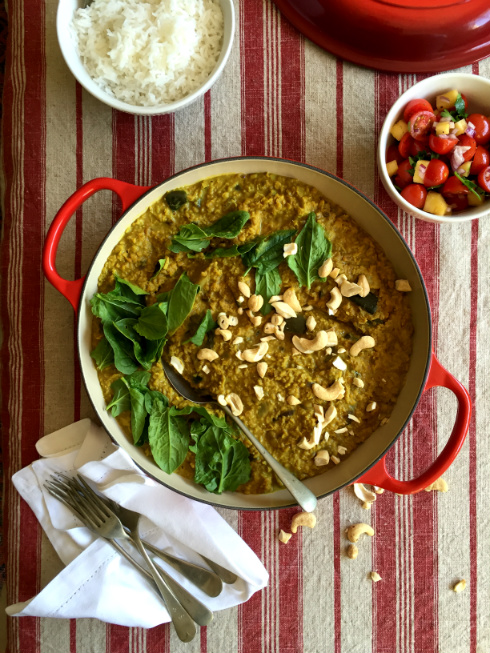 A few weeks ago I was invited to take part in an organic, seasonal, vegetarian recipe challenge by Faithful to Nature – a natural, organic online retailer. Although I love organic fresh produce, I'm not a health shop regular and not clued up in the least of what is available in the organic pantry department. This was an eye-opening experience to say the least!
In order to find ideas and put together my online order, I browsed the Faithful to Nature site. It is easy to use and has a tremendous array of organic products but also a wide range of wheat free, gluten free, sugar free, dairy free, paleo and banting products. Not to mention the huge range of lifestyle, beauty, home and kids sections.
Staying with what I know and love, I decided to base my recipe on organic red lentils and organic coconut milk. I cook spicy Indian-style dhal at home often, and I'll give my left arm for a good coconut-based curry anyday. To keep my curry seasonal, I added some of my favourite fresh organic ingredients: red onion, aubergine and baby spinach – all three such versatile staples. And to add a final zing to the finished product, I made a seasonal sweet sambal with organic pineapple, red onion, tomato and coriander – perfect with the hearty dhal. The curry is mild enough to be enjoyed by kids and adults alike, fragrant and rich with pieces of aubergine that just melts in your mouth. End it off with a handful of organic raw cashew nuts and serve with fluffy organic basmati rice.
This dish won't only excite vegetarians, but meat eaters as well. The dhal visually resembles mince meat, almost to the point where I want to buy a loaf of white bread and make a curry bunny. The coconut milk lends a delicate sweetness to the curry and the nuts add the necessary texture. Packed with proteïen, iron and flavour, it's a delicious meal for the whole family.
I also learned an important lesson: although some of the organic pantry ingredients might seem a little pricey, you'll be surprised to see how much money you'll "save" by not including expensive meat cuts into your meal. Use that extra budget to make sure you buy the best organic pantry staples and spoil yourself with extras like nuts and chocolate spreads from Faithful to Nature – perfect for an after-dinner treat.
Ingredients for the curry:
500 g organic red lentils
45 ml coconut oil
1 red onion, chopped
1 large aubergine, diced
2 cloves garlic, finely chopped
a 5cm piece of fresh ginger, peeled and grated
15 ml mild curry powder
15 ml garam masala
10 ml ground coriander
10 ml ground turmeric
2 cans organic coconut milk
salt to taste
a small bunch of baby spinach
a handful of cashew nuts, roughly chopped
a handful of coriander, to serve (optional)
cooked basmati rice, to serve
Method:
Rinse the lentils, then place them in a large pot and cover with water (about 5 cm above the lentils). Bring to a boil, then cook until just tender – about 15 minutes. Remove from the heat and drain in a colander. Set aside.
In a large wide pan or pot, heat the oil over high heat. Fry the onions and aubergines until golden brown, then add the garlic, ginger and spices.
Fry for another 2 minutes, stirring, then add the coconut milk and bring to a boil. Cook for 10 minutes uncovered, then add the cooked lentils and stir to mix. Cook for a further 2 minutes, then season generously with salt (to taste).
Remove from the heat, then stir in the baby spinach and top with the cashews. Serve hot with basmati rice (and coriander leaves, optionally).
For the sambal:
2 large slices of organic pineapple, diced
250 g organic cherry/rosa tomatoes, halved
1/2 organic red onion, finely chopped
a handful of organic coriander leaves, chopped
a squeeze of organic lemon juice
a small pinch of salt
Method:
Mix all the ingredients together, then serve at once with the curry.
*For organic fresh produce in the Stellenbosch area, try the following suppliers: