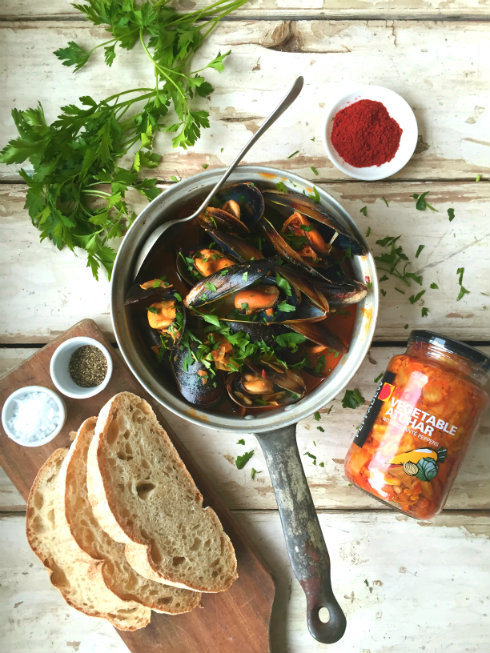 My friends at Peppadew invited me to participate in a recipe challenge using their brand new #AwesomeAtchar product range. Seeing that this is Heritage Month, it is such a pleasure to explore the possibilities of cooking with this fantastic Indian-inspired ingredient.
My recipe is a very simple yet mouthwatering starter with big flavour and little effort: spicy Saldanha Bay mussels cooked with Peppadew Hot Vegetable Atchar, garlic, paprika and dry white wine, scattered with your choice of chopped parsley or coriander leaves.
The dish can be made from start to finish in 15 minutes. Serve with crusty bread and you have an instant feast!
PS: If you don't like cooking with wine, substitute with a good quality chicken/vegetable stock and a squirt of fresh lemon juice.
Ingredients: (serves 4)
30 ml olive oil
200 g (half a jar) Peppadew Hot Vegetable Atchar (of Hot Mango Atchar)
2-3 cloves garlic, finely chopped
10 ml (2 teaspoons) ground paprika
about 1 kg fresh black mussels, scrubbed and cleaned
375 ml (1/2 bottle) dry white wine
a handful of Italian parsley or coriander leaves, roughly chopped
Method:
Heat olive oil in a wide casserole/pot with a lid. Add atchar and garlic and fry over high heat for 2-3 minutes until it starts to brown.
Add the paprika and stir for another 30 seconds.
Add the white wine and mussels and bring to a boil. Cover with the lid and leave to cook for 5-8 minutes, or until all the mussels have opened.
Remove lid, scatter with parsley/coriander and serve at once in bowls with crusty bread.
Note: Discard any mussels that won't close while still uncooked. Discard any mussels that won't open when cooked.)