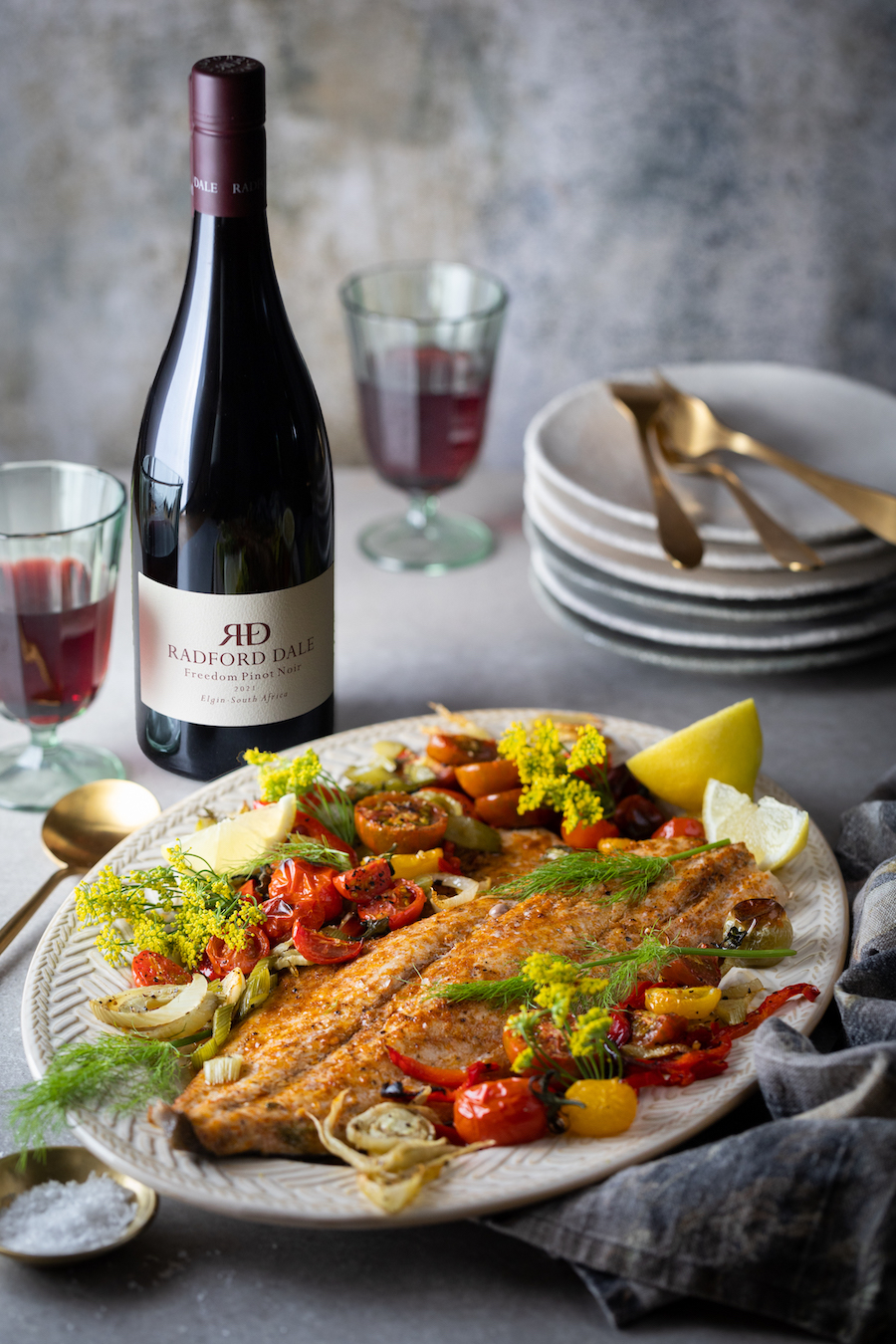 This easy, simple, baked fish recipe delivers big on fragrant North-African and Mediterranean-style flavours, with the comforting umami of roast vegetables. Fennel brings a brightness to the dish, and the liquorice tones pair beautifully with the unique salty palate of Radford Dale's Organic Freedom Pinot Noir. For optimum enjoyment during the hot summer months, serve the wine slightly chilled.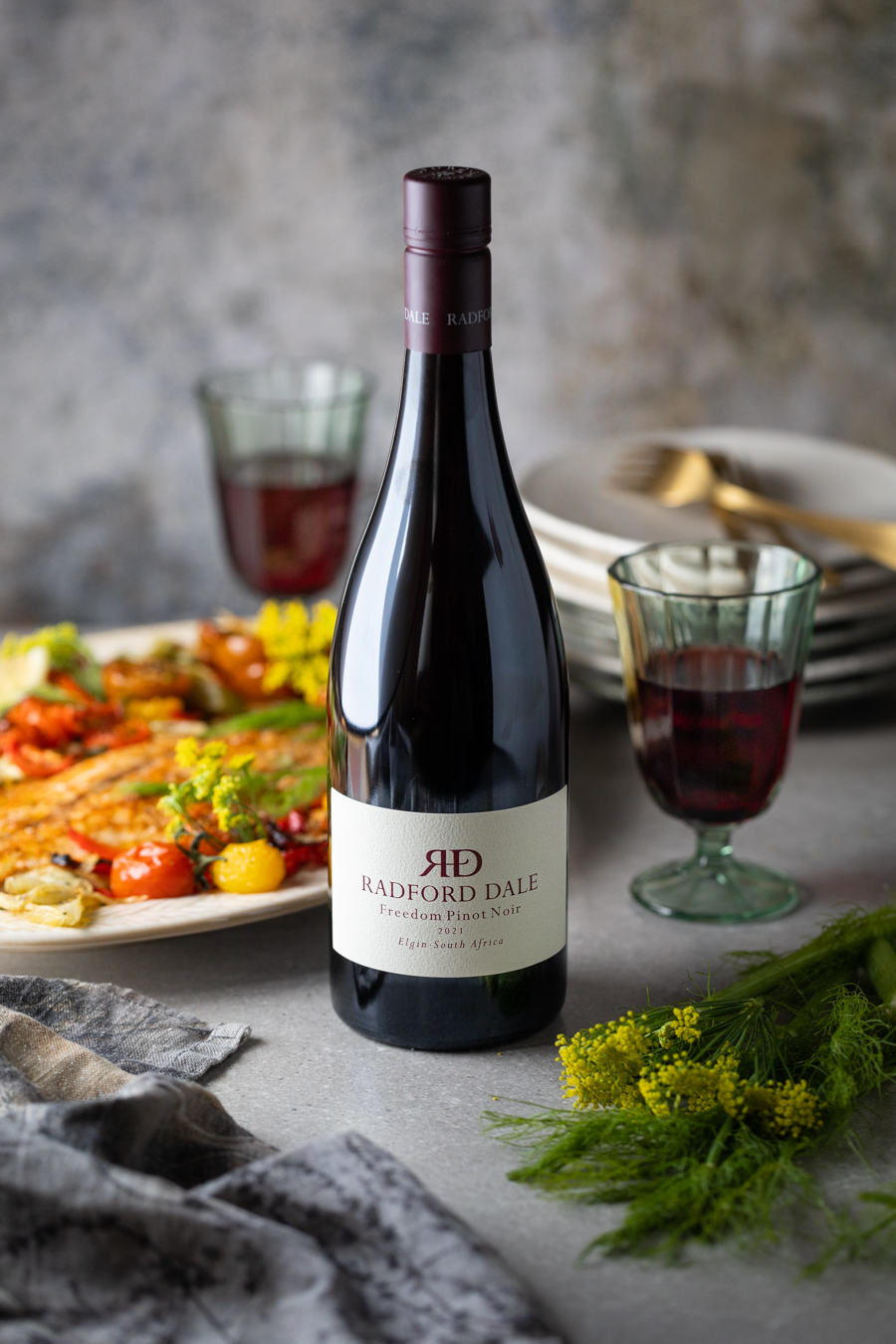 Find the freshest sustainable caught fish on the Abalobi Marketplace App, where you can have your order delivered directly to your door. This specific yellowtail fillet was part of their flash frozen fish stock – pristine quality.
Tip: If your oven allows, you can bake the tray of veg and the tray of fish alongside one another, timing for it to be done at the same time (start with veg).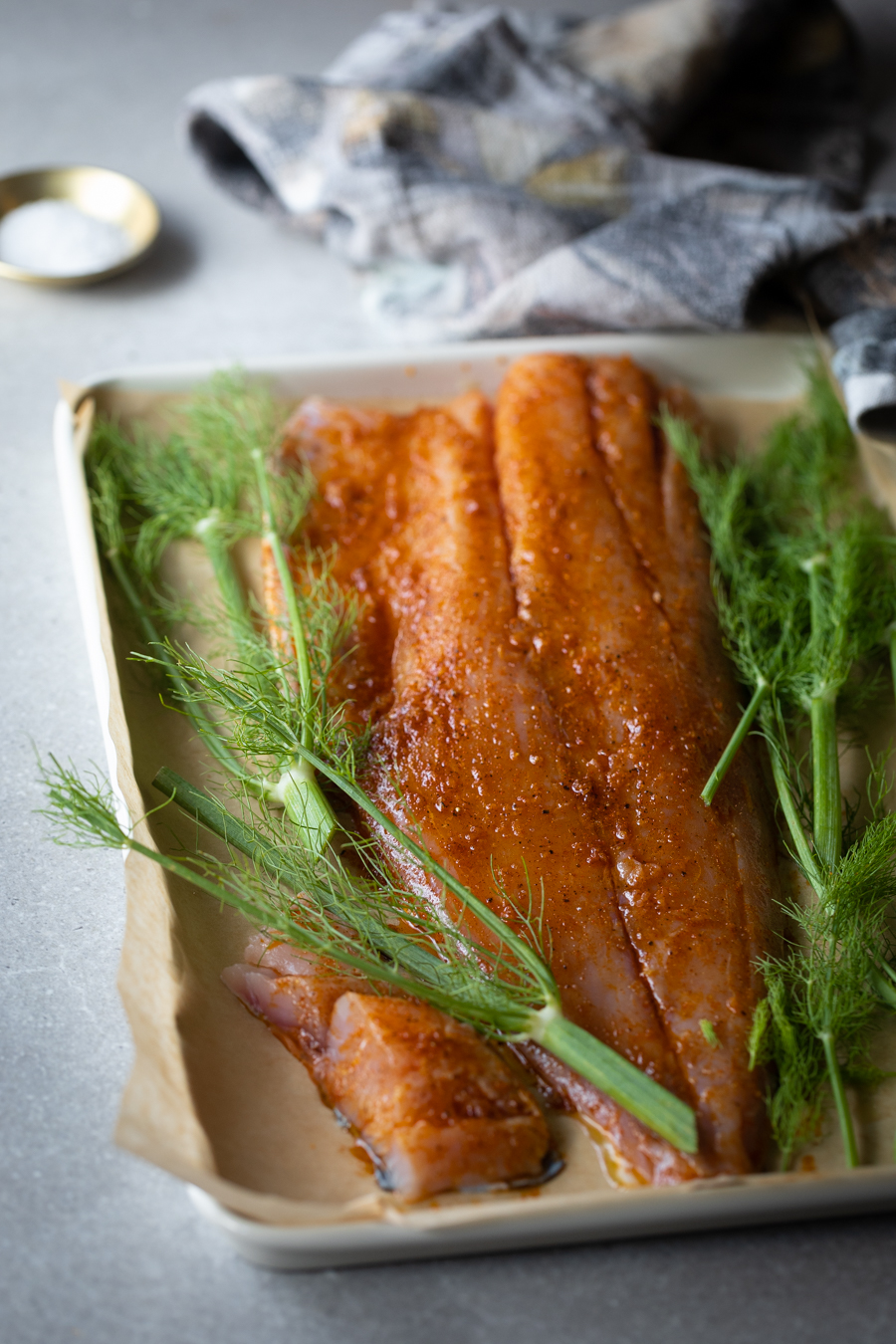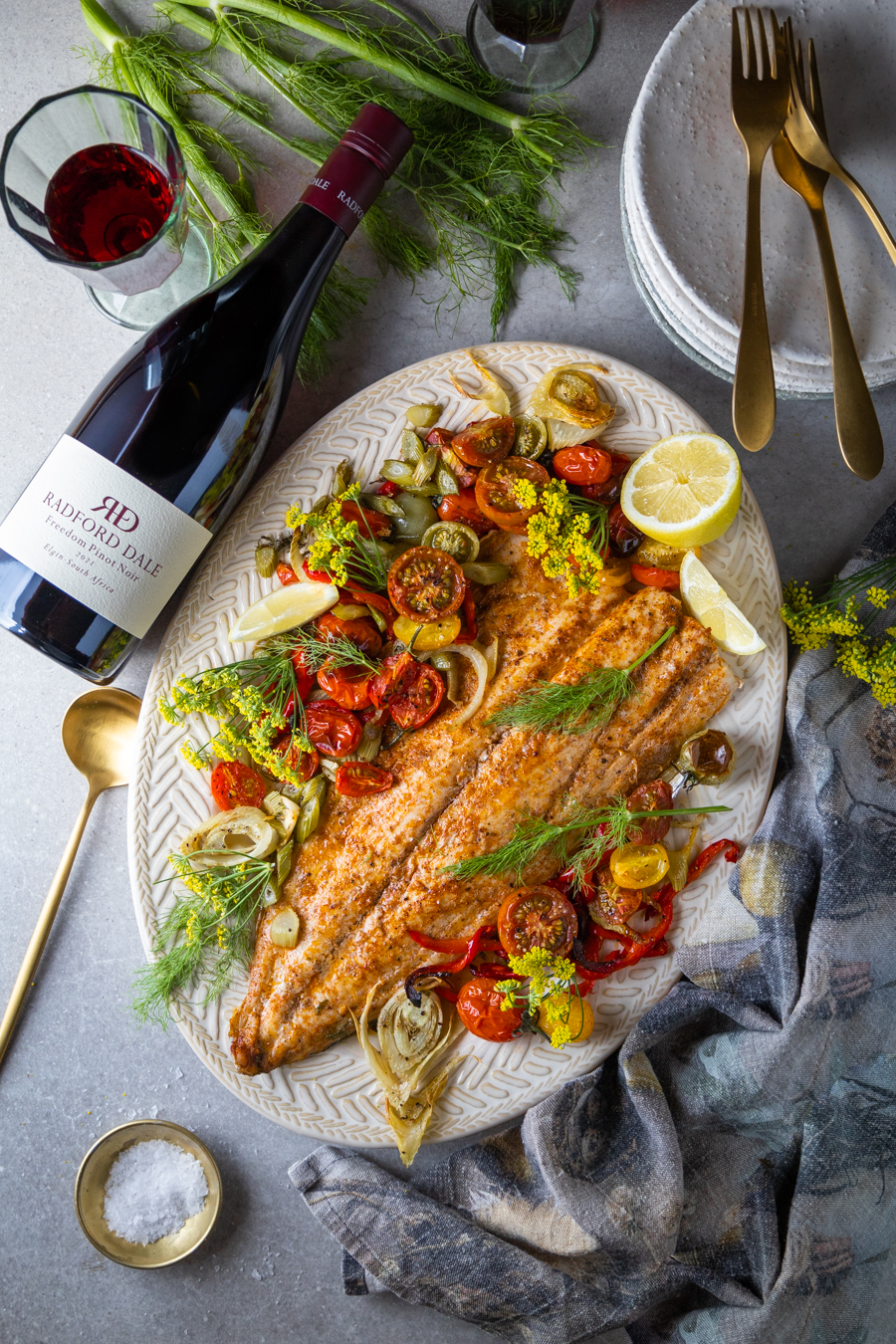 Ingredients: (serves 4)
For the vegetables:
1-2 large fennel bulbs, thinly sliced (save some of the fronds for serving)
300 g mixed small tomatoes, larger ones halved
1 red pepper, pith removed, sliced
about 30-45 ml extra virgin olive oil
salt & freshly ground black pepper, to taste
For the fish:
1 large fresh yellowtail fillet, rinsed and dried with a clean cloth
45 ml (3 tablespoons) extra virgin olive oil
½ teaspoon salt
freshly ground black pepper, to taste
zest of a lemon, finely grated
1 garlic clove, finely grated
5 ml smoked paprika
5 ml ground cumin
½ teaspoon fennel seeds (optional)
a handful fresh dill / fennel fronds, or edible fennel flowers, to serve
lemon wedges, to serve
Method:
Preheat the oven to 220 C. On a baking sheet, arrange the fennel, tomatoes, red pepper in an even layer, then drizzle all over with olive oil and season generously with salt & pepper. Roast in the oven for 20-25 minutes, or until soft and charred on the edges but not too dark.
In the meantime, on another baking tray lined with non-stick baking paper or foil, drizzle a little olive oil and place the fish on top. In a small mixing bowl, add the oil, salt, pepper, zest, garlic, paprika, cumin and fennel, then stir to mix. Pour the mixture over the fish (use as much as you prefer) and use the back of a spoon or a pastry brush to distribute it evenly. Bake the fish at 220 C for about 15 minutes until the thickest part is just cooked, depending on the size of the fillet, then remove from the oven and transfer to a serving dish/platter. Arrange the cooked vegetables alongside the fish, then add fresh dill/fennel fronds and lemon wedges. Serve warm, with or without some buttered bread/potatoes on the side.
(The recipe was created in proud collaboration with Radford Dale Wines and Abalobi Marketplace.)