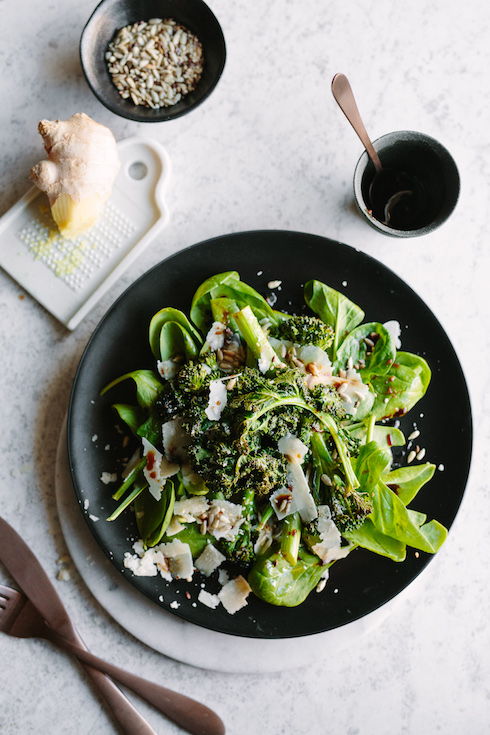 I know a lot of people that don't like kale. It's a relatively new thing in South Africa (although much better known in some other parts of the world) and part of the cabbage family. Although it resembles spinach, it doesn't wilt or shrink like spinach and can be baked in the oven until it turns crispy. And I have to say, I love it!
Last year I was invited to Longridge for a media event. One of the courses was a broccoli and kale dish with parmesan custard and an umami rich dressing that was just incredible. So this is my spin on it – roasted veg on a bed of fresh baby spinach, with an Asian-style dressing, some shaved parmigiano and toasted seeds. It's packed with flavour and such a great alternative to regular green salads with lettuce and cucumber. And it's fantastic served at room temperature, which means you can make it ahead. Greens for the win!
Ingredients: (adjust quantities to your liking)
a few broccoli spears
a few kale leaves
olive oil, for drizzling
salt & pepper
a handful baby spinach leaves
parmesan cheese, shaved
mixed seeds, dry toasted
for the dressing:

30 ml soy sauce
one teaspoon grated ginger
15 ml olive oil
10 ml lemon juice
Preheat oven to 220 C. Place the broccoli and kale on a roasting tray. Drizzle with olive oil, season with salt & pepper, then roast for about 15 minutes until the kale starts to go crispy on the edges and the broccoli is just starting to go tender. Remove and let cool. (You can do this the day before, if you like.)
Arrange the salad: baby spinach, broccoli, kale, parmesan, toasted seeds. Drizzle the dressing over right before serving.
Note: This is also a brilliant side dish to a more elaborate main course.