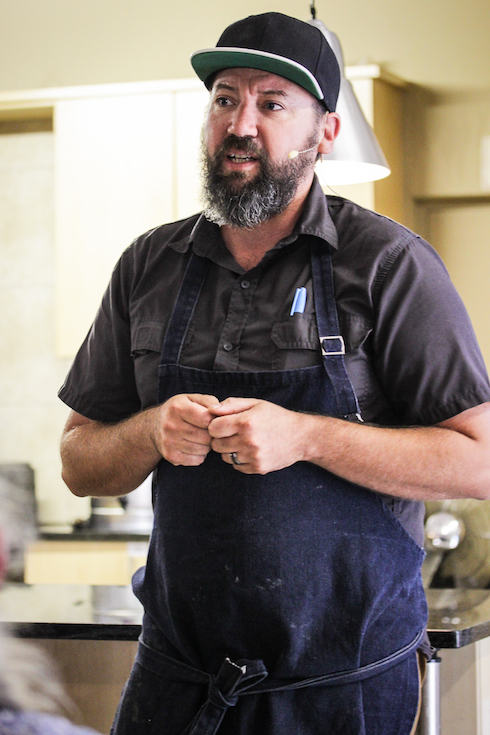 Yesterday I attended the first merino tasting session hosted by well known Stellenbosch Chef Bertus Basson and Cape wine master Bennie Howard of Veritas, in collaboration with Agri-Expo and Lamb & Mutton SA as part of the Woordfees 2018 in Stellenbosch.
Four legs of lamb, taken from animals of the same age, farmed in different areas (Hamtam, Kamdeboo, Overberg and Boland) were cooked at 68 °C sous vide for 12 hours, with no salt/herbs/spices and served at room temperature. This way the unique terroir of each of the meats can be identified, tasted and appreciated. In case you didn't know, most of the mutton that we find in SA is free range. Along with the four meats, a tasting of four Veritas awarded wines were presented by Bennie Howard: Holden Manz Big G 2013, Ridgeback Cabernet Sauvignon 2015, Diemersdal Pinotage 2016 and Kleine Zalze Family Reserve Shiraz 2013. All four incredible wines could be paired with your choice of meat, and the differences in tastes in the audience were interesting to see.
Some notes on the terroir of each of the meats:
1. Hantam (Calvinia, Great Karoo): hard, sun scorched, dry, biodiverse hotspot, winter rainfall, animals mainly eat karoo bossies.
2. Kamdeboo (Graaf Reinet, Eastern Cape): succulent Karoo, grass lands, cold winters, summer rainfall.
3. Overberg (Swellendam): fynbos territory, the heart of merino territory, winter rainfall, cold winters.
4. Boland: animals feed on "stoppellande" after harvest season, receive additional feed because of current drought, very hot summers.
When you taste lamb or mutton meat, you're looking for the following qualities: herbaciousness, minerality, fat content and grain. It was eye opening to taste and experience the unique differences in each of the meats and to see the differences in grain (like they say in Afrikaans: "Daar's 'n skaap vir elke smaak"). According to Bertus, his personal favourite mutton cuts are neck, rib and shoulders. He also said that mutton chops should be braaied crispy and seasoned only with salt. This way you can really appreciate the taste of the meat and enjoy the unique fatty edges. No fancy-shmancy pink chops for him! I like that.
Get your tickets for the upcoming exclusive merino tasting sessions with Bertus & Bennie from Computicket – next sessions on Thursday 8 March 12h00 and Sunday 11 March 12h00, R160 pre-bought or R180 at the door. #CookingWithLamb #Lambassador #WeLoveLamb #TheWayNatureIntended
Here is my taste experience in pictures: