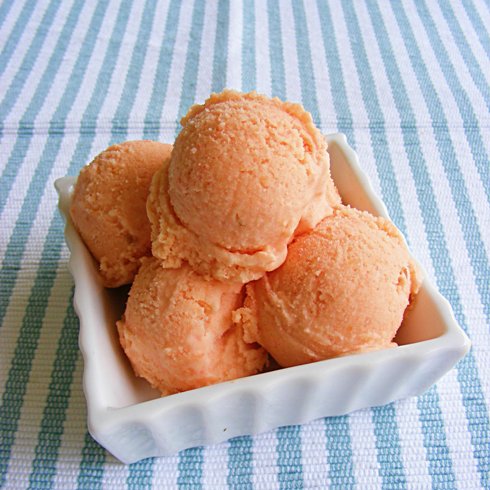 Just more than a week ago, I hosted a "secret dinner" at my home. I served a 5-course tomato-inspired dinner, and the evening was a huge success! We ended the night with individual pavlovas, served with fresh cream, some small organic rosa tomatoes and tomato ice cream. The rosa tomatoes were super sweet and juicy, and tasted like "real summer fruit" (we all know that tomatoes are fruit, but they are very rarely  served as fruit).
So here is my recipe for the tomato ice cream that I served as part of this dessert. It is very rich, but has amazing tropical flavours and a clear tomato taste. I used fresh tomatoes and some fabulous tomato jam from Melissa's – the best tasting tomato jam I have ever come across.
Tip: Don't serve this ice cream all on its own, it works best as an accompaniment to a sweet pastry, tart, baked pudding, or meringue dessert.
Ingredients:
3-4 large tomatoes
340 g good quality tomato jam
200-250 ml fresh cream
Method:
Blanche the tomatoes in boiling water for 30 seconds, then remove and immerse in ice water.
Remove skins, then halve the tomatoes and remove the seeds. Cut into chunks, then freeze until completely hard.
Using an ice cube tray, pour tomato jam into cube compartments and freeze. This won't freeze completely, it will stay slightly soft.
Using a food processor, add frozen tomato flesh and frozen tomato jam. Add fresh cream and process until completely smooth (about 1-2 minutes). This consistency will be similar to soft serve ice cream. Transfer immediately to a plastic container and place back in the freezer for about 3-4 hours until set.
Serve directly from fridge.