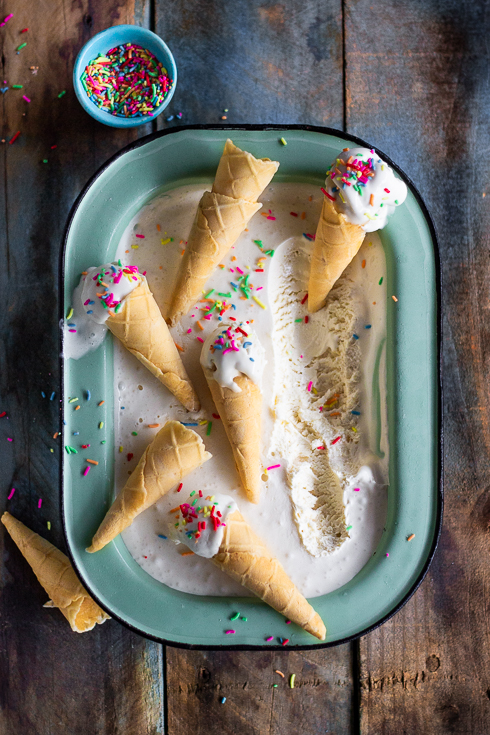 Who said you can't have ice cream in Winter?
There's a new product on the market called "Velvet" by First Choice – you might have seen me explore it in a Facebook video. It comes in a 1 liter recyclable container (similar to long-life custard) and it is tartrazine/colourant/MSG-free. It's available in four flavours: vanilla, chocolate, strawberry and butterscotch and retails around R30/liter. It's an interesting new addition to the dairy market, because in my opinion it's a completely new category. Velvet vanilla tastes similar to melted ice cream, or sweetened flavoured cream, with the texture of runny custard or slightly thickened cream. The makers have attached the hashtag #itswhatyoumakeit, and I can understand why – it's versatile, it's velvety, it's custardy, and it's really delicious.
I can absolutely just have it as it is, straight from the box – on baked puddings, with poached fruit, with fresh berries or warm tarts. But you can also whip the Velvet when chilled, freeze it and voila – ice cream. It pretty much doubles in volume, and you cannot really over-whip it like you can with cream or double cream (it takes a little bit longer than fresh cream to whip to soft peaks), so it's a safe bet. And the best thing: you don't have to add sugar, you don't have to boil cream and temper eggs, no mess no fuss.
So, I've had these mini sugar cones in the cupboard for a few weeks since the end of summer. They've been teasing me for a really decadent small-dosage canapé-type ice-cream vibe, something that is rich enough that you won't need a bowl full, only a bite. I decided to boil some condensed milk in the microwave until it reduced to a pale off-white caramel with a fudgy consistency. After cooling, I scooped it into a blender with 500 ml Velvet vanilla, blitzed it until well mixed, then transferred it to a mixing bowl and whisked until doubled in volume. Pour into a container and pop in the freezer for a few hours. The result is an intensely creamy, soft scoop ice cream with an outrageously smooth texture, and a flavour that I can only describe as "white fudge" – vanilla mixed with fudgy condensed milk. It's insanely delicious and decadent, perfect for a mini sugar cone dessert canapé.
I'm going to keep playing around with First Choice's Velvet range – I'm sure there are many sweet treats that can be made with low effort and big results.
Note: Remember, you can also just whip the chilled Velvet as it, and freeze it to get an amazing, easy ice cream. Play around and fold in some fun flavours when already whisked, like berry sauce, lemon curd, blitzed fruit puree, chocolate chips, crushed cookies, etc. – the sky's the limit!
Ingredients: (make this recipe a day ahead, to leave enough room for cooling and freezing time)

500 ml First Choice Velvet, vanilla flavour
1 can condensed milk
12-24 mini sugar cones, for serving
sprinkles, for serving
Method:
Place the Velvet in the fridge to chill (at least an hour).
Place the condensed milk in a large microwaveable container, at least 1 liter capacity. Cook the condensed milk uncovered for 2 minutes, then stir well. Continue cooking it at 30 second  to 1 minute intervals, stirring inbetween and watching in closely so that it doesn't boil over the sides. When the condensed milk is reduced by about 1/3 and starts to look almost like it wants to split, remove from the microwave, stir vigorously until smooth, then leave to cool completely. It will continue to thicken on standing. Note: The cooking process takes about 12-15 minutes, cooling will take about 45 min.
Place the cooled condensed milk and chilled Velvet in a blender or food processor (the condensed milk will now have a consistency similar to fudge, so you won't be able to whisk it straight into the Velvet), then blend/process until almost mixed but still sligthly grainy. Transfer to a mixing bowl, then whisk with an electric hand whisk (or stand mixer with whisk attachment) until doubled in volume and silky smooth. Pour into a freezable container, cover and freeze for at least 3 hours or overnight.
To serve, use a melon baller or teaspoon dipped into hot water to scoop small balls of ice cream into the mini sugar cones. Top with sprinkles and serve immediately. Prepare to keep on scooping – you'll want more!