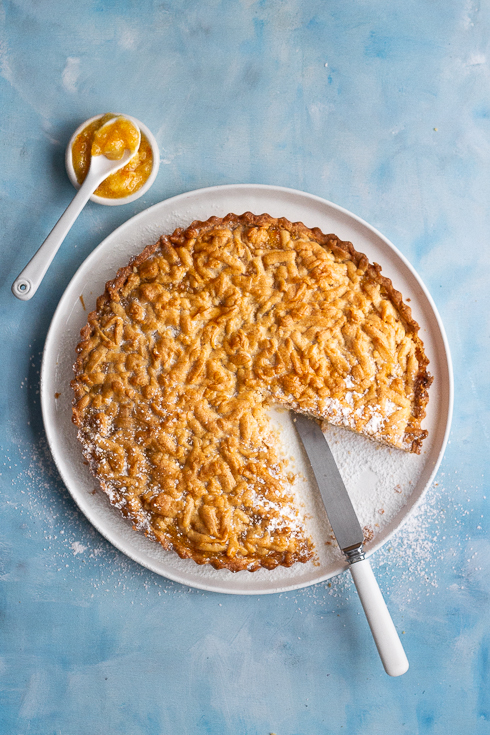 I am always inspired by recipes that require just a few basic pantry ingredients. In saying that, I also realize that there are so many people who don't have these basics on hand, not even mentioning a proper oven or a tart tin. But bear with me as I celebrate the tighter winter months as a creative freelancer. This is why I love what I do: I can make delicious stuff out of "we-have-almost-nothing-in-the-cupboard" stuff. If you have jam, flour, butter and a few other small basics, this tart will bring some sunshine to your wintery world.
Although jam crumble squares have been around for a long time, I've never tried to bake it in a round tart form. I have to say that it does put a fancy jacket on this humble sweet treat. Serve it with custard or ice cream or whipped cream as a beautiful way to end a dinner. Otherwise, opt for a square tin and cut it into squares for tasty lunch box treats. They're soft, chewy, crumbly and actually not too sweet. Weirdly, they get better on standing – more gooey and chewy. So resist the urge to gobble it down straight from the oven.
I made this batch with some homemade marmalade, seeing that I made a considerable batch at the beginning of winter. My marmalade is quite chunky with long strands of rind, so I heated it up in the microwave and gave it a whizz in my food processor. Otherwise, use any jam you love out of a jar – berry, apricot or even something like caramelized onion for an interesting savoury spin.
This recipe was adapted from The Ultimate Snowflake Collection by Heilie Pienaar – one of my trusted baking bibles.
Ingredients: (makes 1 x 23 cm tart, about 2cm thick)

125 g butter, softened
1/4 cup (100 g) sugar
1 XL egg
5 ml (1 teaspoon) vanilla extract
1,5 cups (225 g) cake flour
5 ml ( 1 teaspoon) baking powder
2,5 ml (1/2 teaspoon) salt
250 ml (1 cup) jam, slightly heated to a good spreading consistency
custard, whipped cream or ice cream, for serving (optional)
Method:
Place butter and sugar in a food processor (or bowl with electric whisk) and cream until smooth. Add egg & vanilla and mix until light and creamy.
Place flour, baking powder and salt in a mixing bowl and stir well with a whisk. Add it to the creamed mixture and pulse/mix until it comes together as a soft pastry. Turn out on a piece of cling film and refrigerate for 15 minutes.
In the meantime, spray a 23 cm fluted loose bottom tart tin with non-stick baking spray or brush with melted butter. Pre-heat oven to 200 C.
Use 2/3 of the pastry and press it into the base of the tin and slightly up the sides – I found that it works well when you wet your fingers lightly with water to prevent sticking. Prick the pastry with a fork, then place a sheet of non-stick baking paper on top. Top with dry beans or rice and bake blind for 10 minutes.
Remove from the oven and remove the beans/rice and paper. Lower the temperature to 180 C. Add the jam and spread evenly over the tart base with the back of a spoon – you need quite a thick layer as it will sink into the pasty when baked. Remove the remaining pastry from the fridge/freezer and use a grater to coarsely grated the pastry over the jam layer. Neaten it up slightly, then bake for 25-30 minutes until golden brown and crisp on the edges.
Leave to cool for 30 minutes before cutting and serving. If serving warm, serve plated with custard/cream/ice cream. If serving cool, it can be eaten by hand.