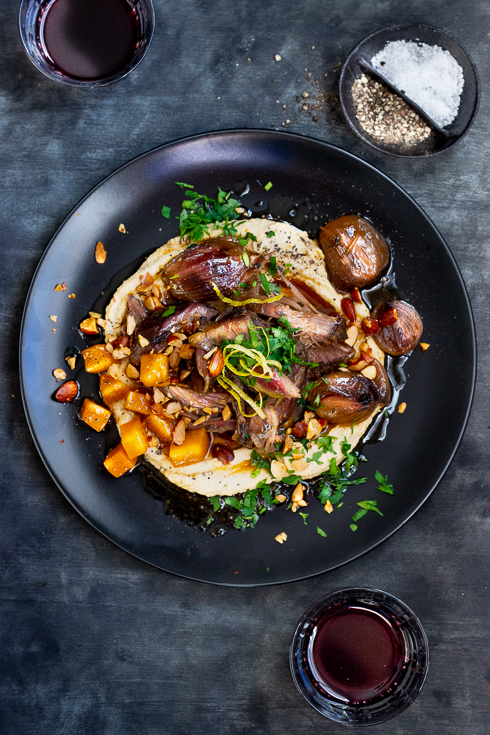 My husband just returned from a week in Porto and I wanted to welcome him home with a special dinner. I had a beautiful 1kg mutton shank in the freezer thanks to The Boer & Butcher as part of a recent campaign with Allesverloren Wines. After paging through Phillippa Cheifitz's book Make It Easy, I found some inspiration with her roast Middle Eastern-spiced lamb on hummus. Serving meat on a bed of hummus takes the idea of "loaded hummus" to another level. It is incredibly flavourful and works so well with the deep umami flavours of the slow roasted shank.
Another revelation was the pearly small red onions. They became so soft and caramelized and released so much flavour into the cooking liquid. It provided the perfect concentrated meat sauce for spooning over the meat and hummus. For added texture, a few chopped toasted almonds did the trick.
I'll be making this again and again – a winning dish. Thank you Allesverloren for the inspiration (and the fantastic bottle of Três Vermelhos which we consumed immediately) and Boer & Butcher for the delicious meat.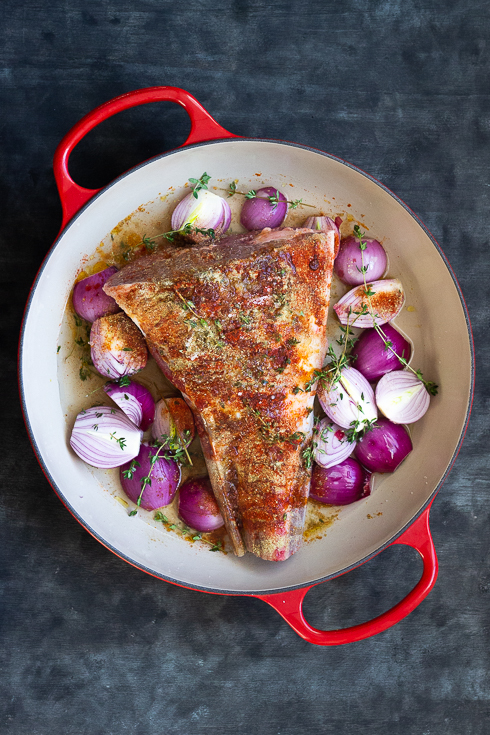 For the roasted shank: (serves 2)
45 ml olive oil
1 kg mutton shank, whole
about 10 baby red onions, peeled & halved (or 2-3 large red onions, quartered)
250 ml dry white wine
juice of half a lemon
5 ml ground fennel
5 ml ground cumin
5 ml smoked paprika
about 6 sprigs thyme, woody stalks removed
salt & pepper
250 ml dry white wine
Pre-heat oven to 160 C. In a deep oven dish with lid, drizzle the bottom with half the oil, then place the shank on top and arrange the onions around it. Pour over the win. Drizzle the meat with the rest of the oil and with the lemon juice. Sprinkle with fennel, cumin, paprika, and place the thyme all over. Season generously with salt & pepper, then roast open for 1 hour. Turn oven down to 140 C, then cover the oven dish with a lid and roast for another 4 hours, turning the meat over half way through (the meat should be very tender and pretty much falling from the bone). Remove from the oven and leave to rest for 10-15 minutes, covered with the lid, before serving. Remove the bone (it should be quite easy) and tear the meat into chunky shreds. Immerse the shreds in the pan juices before serving.
For the hummus:
(Note: I left garlic out of this hummus recipe for a milder result, but feel free to add a small clove. If you don't have access to tahini, which can be an expensive ingredient, try a small amount of unflavoured peanut butter.)
1 can chickpeas, drained
45 ml tahini/sesame paste (or 5 ml unflavoured smooth peanut butter)
juice of half a lemon (about 15-30 ml)
30 ml extra virgin olive oil
30 ml warm water
salt to taste
Put all the ingredients in a food processor or high power blender and blend until smooth and creamy. Taste and adjust seasoning, then add more water if it is too stiff, or more lemon juice if it needs more acidity. Blend for another minute until really smooth. Cover and refrigerate if not serving straight away. Important: serve at room temperature.
For the pumpkin:
30 ml butter
15 ml olive oil
about 2 cups cubed fresh butternut
juice of an orange
60 ml soft brown sugar
1/2 teaspoon ground cinnamon
salt to taste
Place the butter and oil in a medium pot over medium heat. Add pumpkin and fry for 2 minutes, stirring. Add the orange juice, sugar, cinnamon & salt and stir. Lower heat to a very slow simmer, then cover with a lid. Cook for about 15 minutes, shaking the pot gently now and then to prevent sticking. Cook until the pumpkin is tender and the sugar starts to gently caramelize. Remove from heat and set aside.
For serving:
a handful parsley, chopped
a handful almonds, toasted and roughly chopped
grated lemon rind (optional)
Place around 1/3 hummus on two plates and use the back of a spoon to create a swirled "bed". Place the juicy shreds of warm shank on top, as well as some of the roasted onions and pan juices. Top with a few cubes of pumpkin, chopped parsley and nuts. Serve immediately.