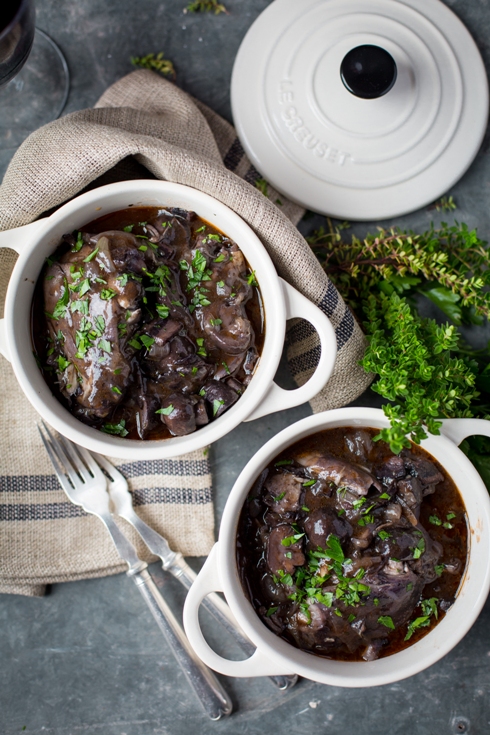 Over the past few days, we've been bombarbed by torrential rains in the Cape. It's been the most rain we've had all winter, coupled with stormy winds – terrible weather for anyone who had to be outside or on the road.
We had our monthly food shoot last week with the dream team from The Pretty Blog. Although we always have the best time  creating beautiful pictures, dark and stormy weather is not necessarily our friend when it comes to food photography lighting! After scanning my house for the best spot to do the shoot (we usually shoot on the stoep, but it was way too windy and cold), we decided to set up at my bedroom window. A bit cramped to say the least, but we pulled it off!
I wanted to feature one last hearty winter stew before the Spring weather starts to settle in (we cannot wait!), so I decided on one of my favourite classic French dishes: coq au vin. This is a simple stew of chicken, small onions, bacon, and mushrooms, simmered in red wine. The red wine turns the chicken purple – a bit alarming at first, but it then settles into a dark and hearty broth, totally delicious for a cold winters day.
Traditionally, the French serve this stew with bread or with pasta, but we like to eat it with white rice or even mashed potato. Choose whatever you like!
Ingredients: (serves 4-6, but this recipe can easily be doubled to feed a large crowd)
45 ml (3 tablespoons) olive oil
8 chicken pieces (about 1 kg)
16-20 "pickling" onions, skinned and whole (small pearl onions)
125 g streaky bacon, cut into small cubes
3 sprigs of thyme
250 g button mushrooms (or portabellini)
15 ml (1 tablespoon) tomato paste
30 ml (2 tablespoons) flour
1/2 bottle (375 ml) red wine (I use a good Bordeaux blend like Sutherland's Cabernet Sauvignon Petit Verdot)
salt and black pepper
Method:
In a large heavy based pot, heat the olive oil over medium-high heat, then fry the chicken pieces in batches until the skins are golden. Remove from the pot and set aside.
Add the onions, bacon & thyme, then fry until the bacon becomes crispy and the onions get a nice colour on the outside. Add the mushrooms and fry for another minute.
Add the tomato paste & flour, then stir well. Now add the red wine. Give it a good stir, then add the chicken pieces and meat juices back into the pot. Bring to a simmer, then turn the heat down to low, cover and simmer for 1 hour 15 minutes. Check on the chicken every now and then to make sure that the pieces are submerged in the sauce and gets coloured purple on all sides.
Season with salt and pepper, then stir gently without breaking up the meat. Serve warm with rice, potatoes, pasta or bread, and some steamed green vegetables like beans or broccoli.
Credits:
This post was especially written for The Pretty Blog by Ilse van der Merwe from The Food Fox.
Recipe, food preparation and text: Ilse van der Merwe.
Photography: Tasha Seccombe.
Styling: Nicola Pretorius & Tasha Seccombe.