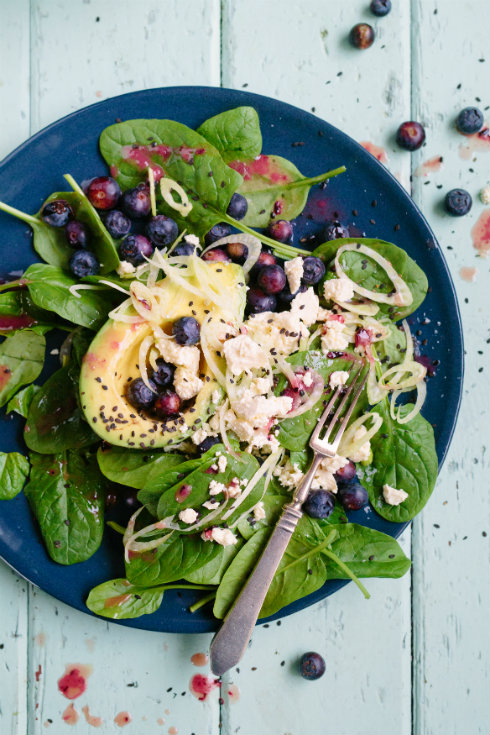 Summer is reigning supreme in the Cape Winelands, with blazing hot weather that smells like wine tasting and picnics. I'm always looking for fresh salad ideas, especially when entertaining friends and family at home. This low carb salad contains a couple of superfoods and is so very satisfying to eat.
Blueberries make an excellent salad ingredient because of their dramatic colour and tartly sweet nature. They pop in your mouth and release their magic juices that work so well with the creaminess of ripe avo and the crunch of sliced fennel and fresh baby spinach. Add the salty zing of crumbled feta and you don't need much else to make a perfect summer meal.
I made a purple salad dressing in my pestle & mortar using blueberries, olive oil & lemon juice, crushing the skins to release their colour.
Serve this as a side salad or as a fabulous light lunch on its own.
Ingredients: (serves 4 as a light meal)
200 g baby spinach leaves, washed and drained
2 ripe avocados, halved, skins & pips removed
1 cup of blueberries (set a few aside for the dressing)
1 small fennel bulb, washed and finely sliced
1-2 rounds of feta, crumbled
some black sesame seeds, for sprinkling (optional)
for the dressing:

5-6 blueberries
45 ml olive oil
15 ml lemon juice
salt & pepper
Method:
Arrange the spinach leaves on a wide, large platter (not a deep bowl), then arrange the avo, blueberries, fennel & feta on top. Sprinkle with sesame seeds.
To make the dressing, place all the ingredients in a pestle & mortar and pound to a pulp, creating a pink emulsion. Season well with salt & pepper, then drizzle all over the salad.
Serve at once.
Credits:
Recipe, food preparation, food styling & text: Ilse van der Merwe
Photography & prop styling: Tasha Seccombe
This post has also been featured on The Pretty Blog.