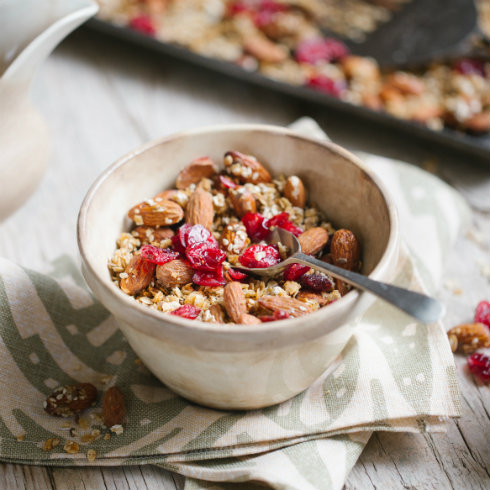 With summer reigning supreme in South Africa, I am welcoming every chance for an early morning run before the heat sets into full swing. After runs like these, all I want to eat is something fresh, balanced, crunchy and sustainable (in terms of energy). The most popular breakfast in our house is a bowl of home-made granola with milk or thick Greek yoghurt, served with sliced fresh fruit on top. Although I've never been scared of butter, this granola recipe is made without the addition of any butter or oil and is a lot lower in fat than most mueslis and granolas. Perfect for getting back in shape after a the crazy festive season.
The granola can be kept in a tightly covered glass/plastic container, and will last well for several weeks.
Ingredients:
4 cups oats
2 cups raw unsalted almonds (or nuts of your choice)
1/2 cup sesame seeds
1/2 cup linseeds
1/4 teaspoon salt
1/2 teaspoon ground cinnamon
2/3 cup honey or maple syrup (or a mixture of both), warmed
1 cup dried cranberries
Method:
Pre-heat oven to 180 C.
Mix all of the ingredients together (except the cranberries), then spread out on a large baking tray lined with baking paper.
Bake for 10 minutes at a time, stirring the mixture before returning to the oven. It will take about 30-40 minutes for the mixture to become caramelized and toasty – don't let it go too dark.
Remove, sprinkle the cranberries over and let it cool, stirring every now and then to prevent large clusters forming. When cool, transfer to a large container with a tight-fitting lid. Enjoy with milk or yoghurt for breakfast.
Credits:
Recipe, food preparation, food styling & text: Ilse van der Merwe
Photography & prop styling: Tasha Seccombe
This post has also been featured on The Pretty Blog.