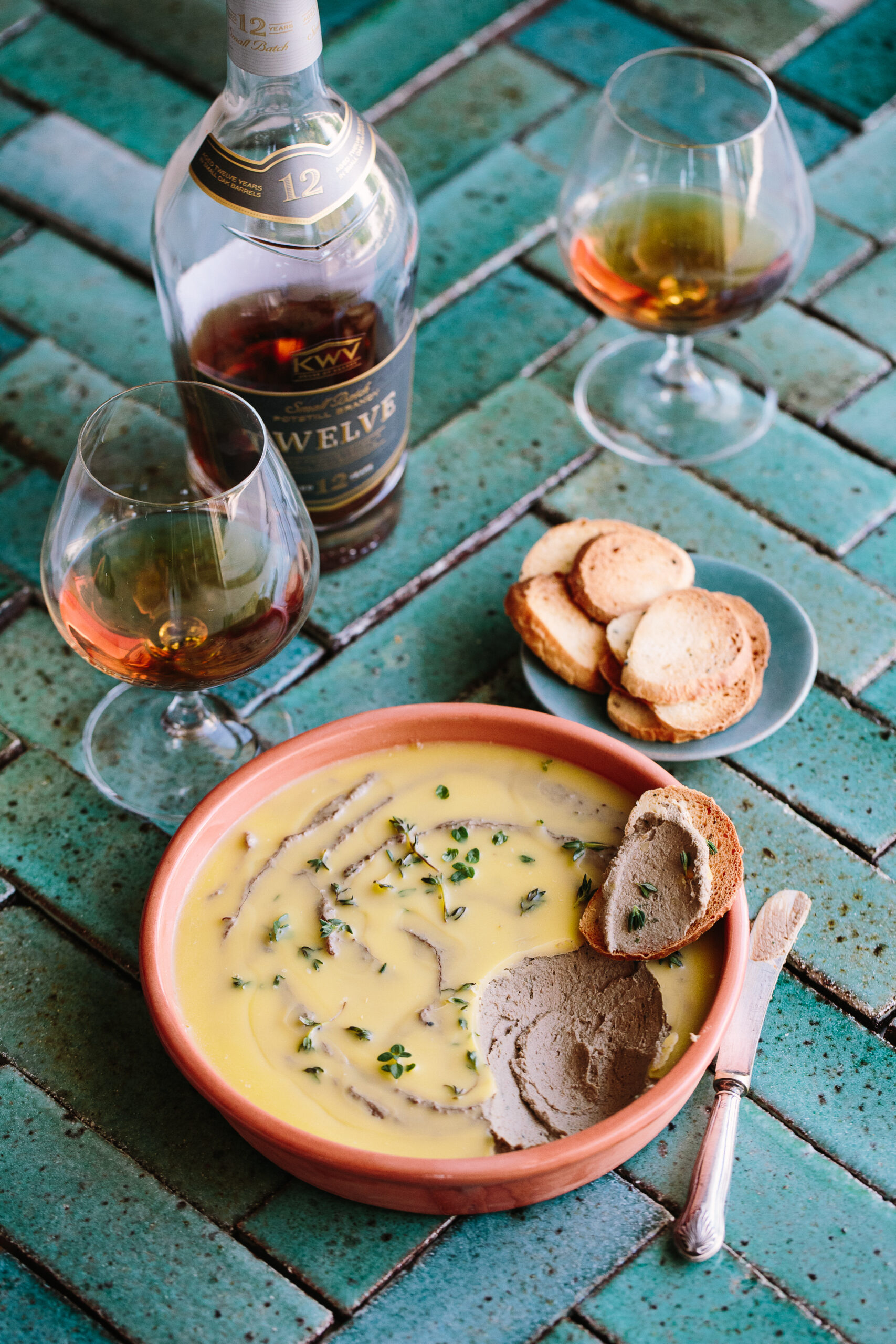 This easy recipe is from my first book, Cape Mediterranean, published in 2019 by Penguin Random House. I've made it too many times to count – sometimes substituting the brandy with whiskey, sherry or even port. Use whatever you have in your cupboard, and make it as boozy as you prefer (I love actually tasting the brandy).
The secrets to a great liver pâté are 1) lots of butter, 2) proper seasoning and 3) proper blending (a long time) in your food processor or blender. Remember, food will also taste a little less salty when cooled, so it should taste a little extra salty when still warm (before refrigeration). It's a great make-ahead dish to serve as a starter or as a snack with crostini or bread for a dinner party, especially when it is topped with clarified butter (which will extend the shelf-life in the fridge).
Ingredients: (serves a crowd as a starter – will fill two medium pâté bowls)
500 g free range chicken livers
90 g butter
1 onion, finely chopped
1 clove garlic, crushed or finely grated
3 sprigs thyme, woody stems removed
80 ml (1/3 cup) brandy
60 ml (1/4 cup) fresh cream
salt & freshly ground black pepper, to taste
crostini/crackers/bread/melba toast, to serve
Remove any stringy bits from the livers, rinse them under running water and pat dry. In a large frying pan, melt half the butter (45 g or 3 tablespoons) over medium heat. Add the onion and garlic and cook slowly, stirring, until soft and transparant but not brown. Add the livers and thyme, then fry until the livers change colour – don't let them get too dark. Add the brandy and simmer for 2 minutes over low heat. Remove the livers from the heat while they are still pink in the centre, then transfer them with all the pan liquids to a food processor or  blender and process for until almost smooth. Add the remaining butter and cream and season generously with salt & pepper, then blend until very smooth – let the motor run for at least 2 minutes. Taste and add more salt or brandy if necessary, then blend again (remember, it should taste a little saltier at this stage while still warm – see intro). Transfer to a jar or wide pâté bowl, smoothing the surface. Cover and refrigerate until firm (at least 1 hour, but overnight is also fine). Cover with clarified butter and few more thyme leaves, if preferred. Beste served cool or at room temperature, with bread or crackers.