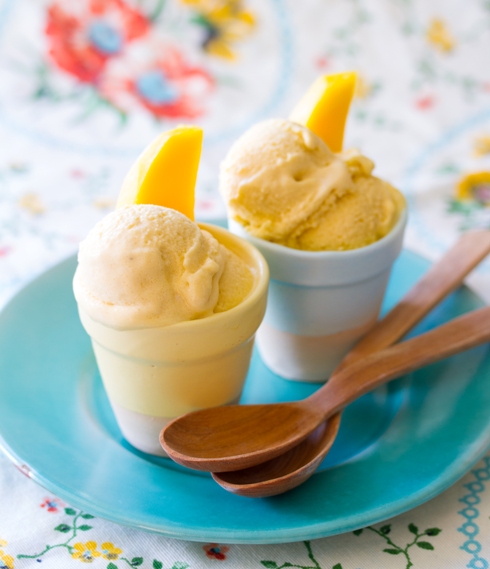 I grew up in a house where vanilla ice cream was freely available – we had it for dessert almost every single day, with my Mom's homemade chocolate sauce. It was great, but I got so used to ice cream that I never really thought of it as something special. Until I got older and discovered proper Italian ice cream from artisan parlours like Lecce Il Gelato and Cold Gold Ice Cream.
Today I've turned into a complete ice cream snob. I only eat the good stuff. OK, I still appreciate the charm of a cheap, old fashioned soft serve at the beach on a hot summers day, but I'll drive the extra mile to get the "extra dark chocolate" flavour from Lecce Il Gelato. Yum.
That said, I haven't really tried my hand at making ice cream before, seeing that it's an artform in its own right. I also don't have the right tools, because ice cream churners can be quite expensive. So I couldn't help but feel a bit confused when I saw Donna Hay make her "cheat's ice cream" on tv as part of her "Fast, Fresh, Simple" series. She simply used frozen fruit and cream, and whipped up a perfectly textured soft serve from scratch in a minute. I had to try it.
I used freshly frozen mango pieces and fresh cream, and sweetened it with a bit of extra caster sugar. It worked like a dream, and it couldn't be easier. All you need is a basic food processor and a normal freezer (deep freeze) – no churning, no time, no tricks.
This is my version of cheat's mango ice cream, based on Donna's recipe. Donna also use fresh banana in her recipe, but I like the basic mango flavour all on its own. After all, the mango is the King of the fruit family, in my books.
Ingredients:
400 g mango flesh, sliced and completely frozen
250 ml fresh cream
50 g caster sugar (optional, adjust to taste)
Method:
In the bowl of a food processor, add the frozen fruit, cream and sugar. Process until smooth – it takes about 30 seconds to 1 minute. The texture should be a smooth "soft serve" consistency, and can be eaten straight away.  But if you prefer a harder ice cream, pour ice cream into a plastic container and freeze for another 3-4 hours or overnight.
Credits:
This post was especially written for The Pretty Blog by Ilse van der Merwe from The Food Fox.
Food & recipe: Ilse van der Merwe.
Photography: Tasha Seccombe.
Styling: Tasha Seccombe & Nicola Pretorius