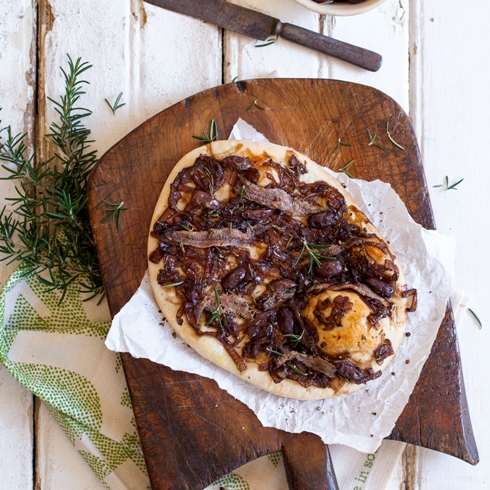 Pissaladière is a classic dish from the south of France – an intensely tasty type of pizza/tart topped with caramelized onions (or onion confit), anchovies, olives and fresh herbs like rosemary. So why the fancy name when we might just as well call it a pizza? Well, it's a type of "white pizza" as they say, one without tomatoes or a tomato sauce.
The name pissaladière comes from the original Latin word "pissalat" which refers to the "salted fish" or anchovies on top. I've only seen it on menus in SA where the establishment is an established bakery, like Ile de Pain in Knysna, but you might find it as an appetizer on traditional French menus.
I've used my trusted basic pizza dough recipe to make the base. While your dough is rising, quickly make a small batch of caramelized onions. And don't be too neat when rolling out the dough – to me the charm lies in a rustic looking free-form pissaladière.
If you don't like anchovies, you can leave those out. But if you, like me, adore those little salty slivers, the combination with the sweet onions and tart olives are just heavenly! If you cannot go without cheese, add a few small pieces of fior di latte.
Ingredients for base: (makes 2 large bases or 4 small)
2 cups (500 ml) flour
2 t (10 ml) instant yeast
1 t (5 ml) sugar
1/2 t (2,5 ml) salt
3/4 cup (185 ml) lukewarm water
1 T (15 ml) olive oil
Method:
In a large bowl, mix flour, yeast, sugar and salt together. Add water and olive oil and mix until a sticky dough forms. Knead until the dough becomes soft and pliable. Cover and let it rise in a warm area for about 30 minutes until doubled in size.
Pre-heat oven to 230 degrees Celsius for at least 20 minutes.
Divide dough in 2 (for large bases). On a well floured surface, roll out one piece at a time into circular shapes, adding a little more flour to make sure the dough doesn't stick. Transfer to a large baking tin lined with baking paper.
Ingredients for caramelised onions:
30 ml olive oil
4 onions, finely sliced (not chopped)
1/4 cup soft brown sugar
1/4 cup balsamic vinegar
salt and black pepper
Method:
In a large pot, heat olive oil over medium heat. Add sliced onions and fry them slowly until they start to brown. Don't use high heat to speed up the process, your results will not be the same. You want the onions to become completely soft – they will naturally start to caramelise.
Now add the sugar and vinegar, then turn up the heat and reduce the liquid until it is sticky. Remove from the heat, then season with salt and pepper and leave to cool. Store any leftovers covered in the fridge – it will last for at least 2 weeks.
Assembling the pissaladière:
about 1 cup of caramelised onions
about 1/2 cup of pitted olives, halved
about 10-15 anchovy fillets
about 15 ml chopped fresh rosemary
Top the bases with caramelized onion, pitted olives, anchovy fillets and chopped rosemary.
Bake for about 8 minutes until golden brown and crisp on the edges. Remove from the oven and transfer onto a wooden board. Slice and serve immediately.
Credits:
This post was written especially for The Pretty Blog.
Recipe, text and food preparation: Ilse van der Merwe from thefoodfox.com
Photographer: Tasha Seccombe
Styling: Nicola Pretorius and Tasha Seccombe.