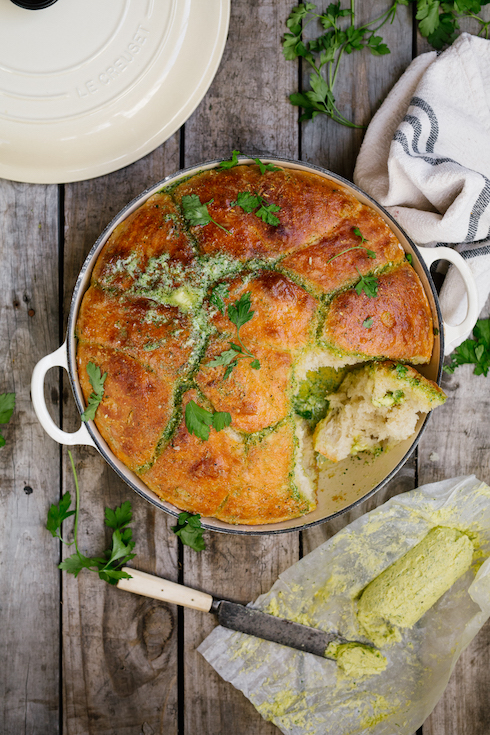 I love bread. I love the process of making dough. I have tremendous respect for the simplicity (and alchemy) of baking with flour, water, yeast and salt. From sour dough to brioche, each golden loaf that is made with care will continue to nurture and delight me for years to come.
I recently attended a sour dough masterclass at Loaves on Long, and learned so much about mother starters, fermentation and patience. I still need to start my own "mother" with Ciska's recipe, feed it, and learn to understand its ways. I've done it twice before, and the results were incredibly satisfying. I see a post about my new efforts in the near future…
Today I would love to share a recipe for no-knead bread – a method that relies on long fermentation rather than kneading (so remember to start long in advance). This recipe featured in Donna Hay Magazine's 75th issue of June/July 2014. I treat her magazines as recipe books and exhibit them proudly on my recipe shelf at home, using them for references and inspiration often. I adjusted my recipe to contain 1 kg flour instead of Donna's 675 g. Although Donna's quantities deliver the perfect amount of rolls for a party of 6 (with one roll to spare), not everyone has digital scales and it is a lot simpler to work with whole packets of 1 kg white bread flour.
Here's my adapted version of Donna's beautiful recipe. I've added my personal touch with the addition of home-made garlic butter, adding a few generous lashings on top right after baking to seep into the warm creases for the ultimate in comfort food indulgence. Use a large iron pot if you don't have a Le Creuset casserole dish like the one in the picture.
Note: This recipe makes a very sticky dough that is almost runny and quite difficult to handle. That's why it is great news that you're going to handle it minimally. The secret to the amazing texture is the long fermentation time, thus eliminating the need for manual kneading or for an expensive stand mixer. Stir the dough until mixed, then leave to proof for 4-6 hours until bubbly and airy (I use a 10 liter plastic bowl with lid, for enough rising space). Donna prefers to shape the dough into balls on a floured surface, but I found it easier to shape with oiled hands straight from the dough bowl into an oiled pot. Shaping the balls makes for an easy pull-apart roll after baking, instead of cutting into slices.
Note: If you're not going to be catering for a crowd, just halve the recipe.
Ingredients: (makes a very large pot bread, serves 10)
1 kg white bread flour
10 g (15 ml) instant yeast
30 ml extra virgin olive oil, plus more for oiling the pot
15 ml salt
875 ml (3 1/2 cups) water
Method:
Place all the ingredients in a large mixing bowl and mix with a wooden spoon to form a wet, sticky dough.
Cover with a lid or plastic wrap and allow to stand at room temperature for 4-6 hours (longer if it's a cold day) until it has tripled in size and has formed large bubbles.
Grease a large, wide pot (about 30cm, preferable enamel-coated iron or plain iron) generously with olive oil on the inside. Using oiled hands, shape the dough into 10-12 balls and place them alongside each other into the pot. Cover with plastic and leave to proof for a second time, around 30 minutes, until doubled in size.
Pre-heat oven to 220 C while waiting for the second proof.
Remove the plastic, cover with an oven-proof lid and bake for 20 minutes (the bread will steam).
Remove lid and bake for another 20 minutes until golden brown with a hollow sound when tapped.
Top with lashings of garlic butter when still very hot, melting the butter into the bread. Serve warm.
Tip: Use a silicon spatula to loosen the bread from the sides and bottom of the pot, if necessary.
For the garlic butter: (make ahead and refrigerate until ready to use)
250 g butter, very soft but not melted
15 ml extra virgin olive oil
2-3 garlic cloves, finely grated
a large handful of parsley, finely chopped
salt & pepper to taste
Mix all the ingredients together with a spatula in a mixing bowl (or use a food processor for a smoother result). Turn out onto a piece of grease-proof paper, then roll into a log and refrigerate.
Save
Save
Save
Save