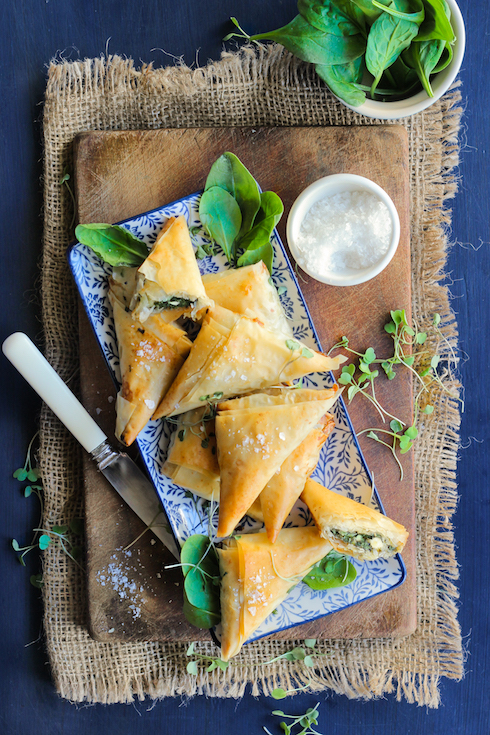 One of my all-time favourite Greek dishes is spanakopita – a deep-dish spinach and feta "pie" made with layers of buttery phyllo pastry. I've seen so many versions of this original dish, many of them in different shapes, as individual rolls or even as small canapés. Spinach and feta make such a fabulous combo, and wins crowd-pleasing votes every time.
My version of this Greek classic contains toasted pine nuts and parmesan cheese. I fold them into triangles that look like small samoosas – perfect hand-size snacks that won't require cutlery. The buttered sheets of phyllo bake to a light, golden perfection, crunching and flaking gently when you eat it.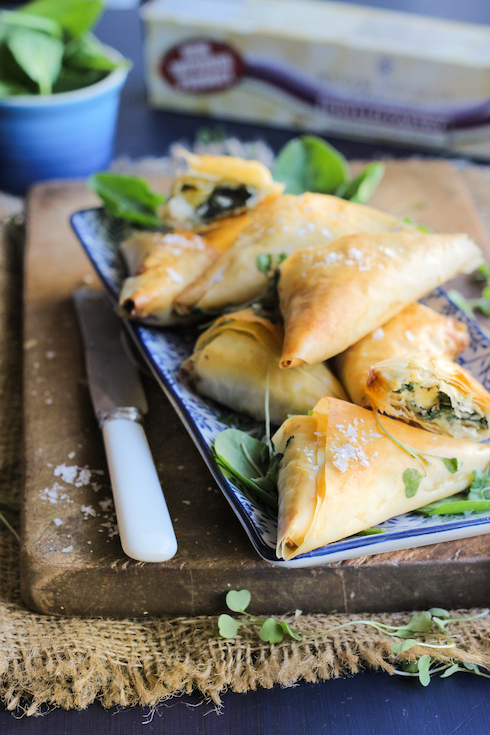 If you haven't worked with phyllo pastry before – it's so easy and so very versatile. The thin sheets thaw super quickly, they're forgiving (you can easily mend tears by sticking another piece on top with butter/oil) and the end result is always light and flaky.
This is a great way to make "shrinking" spinach go further. This filling will yield about 24 small triangles, perfect to feed a crowd as a starter or canapé.
Note: The parmesan and pine nuts add incredible flavour, but they can be an expensive buy if you don't have it in your pantry already. For a more economical alternative, leave these two ingredients out completely.
Cheat's tip: If you're feeling completely lazy, buy a ready-to-eat packet of creamed spinach and stir in some cubed feta. Use it as your filling, then advance to step 6 below!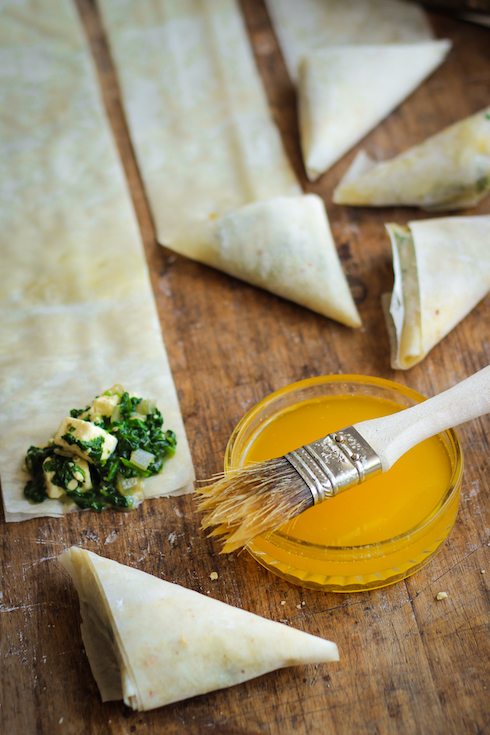 Ingredients: (makes about 24 small triangles)

30 ml (2 tablespoons) olive oil
1 onion, finely chopped
1 clove garlic, finely grated
400 g raw spinach (I prefer using baby spinach because there's no dirt or sand in the leaves; spinach is usually sold in packets of 200g or 400g)
a pinch of ground nutmeg
5 ml (1 teaspoon) dried oregano
60 ml (1/4 cup) parmesan cheese, finely grated
3 rounds (about 200 g) feta cheese, cut into small cubes
30 ml (2 tablespoons) pine nuts, toasted
zest of 1/2 lemon, finely grated
salt & pepper to taste
1 XL egg
1 x 500g packet of Mediterranean Delicacies Phyllo Pastry, thawed (you'll use 8 sheets to make 24 triangles)
125 g (1/2 cup) butter, melted
salt flakes, for sprinkling
Method:
Heat the oil in a wide, large pot and fry the onions over medium heat until soft and golden. Transfer the onions from the pan into a mixing bowl.
Using the same pot over medium heat, add the spinach all at once and cover with a lid. Allow to steam for 3 minutes, then stir with a wooden spoon and continue to steam, covered, for a few more minutes until just wilted. Remove from the heat and allow to cool for a few minutes until cool enough to handle.
While the spinach is cooling, add the nutmeg, oregano, grated parmesan, feta cubes, toasted pine nuts and grated lemon zest to the mixing bowl with the fried onions.
Transfer the cooled spinach to a sieve and gently squeeze out any excess liquid. Transfer to a large chopping board and chop into small pieces, then add it to the mixing bowl.
Mix all the ingredients together and season generously with salt & pepper. Taste the mixture and adjust if necessary. When you are happy with the seasoning, add the egg and mix well.
Preheat the oven to 220 C. On a clean surface, place one sheet of pastry in front of you, landscape orientated (keep the rest of the sheets covered with a damp tea towel to prevent them from drying out). Brush lightly with butter all over, then place another sheet on top and repeat the brushed butter. Now cut the sheet vertically into 6 equal strips using a sharp knife or pizza cutter. Place a heaped tablespoon of filling at the bottom of each strip, and then fold the edge over diagonally to form a triangle, and flip it over again to close the seam, and again diagonally, and flip it over until you reach the end of the pastry strip. Place each finished triangle on a lined baking tray. Continue with the rest of the filling and sheets. Brush the top of each triangle with butter and sprinkle with a few salt flakes.
Bake the triangles for about 30 minutes or until golden brown in the preheated oven at 220 C. Serve warm.
This recipe was written in collaboration with Mediterranean Delicacies Phyllo Pastry. #PhabPhyllo
Save
Save