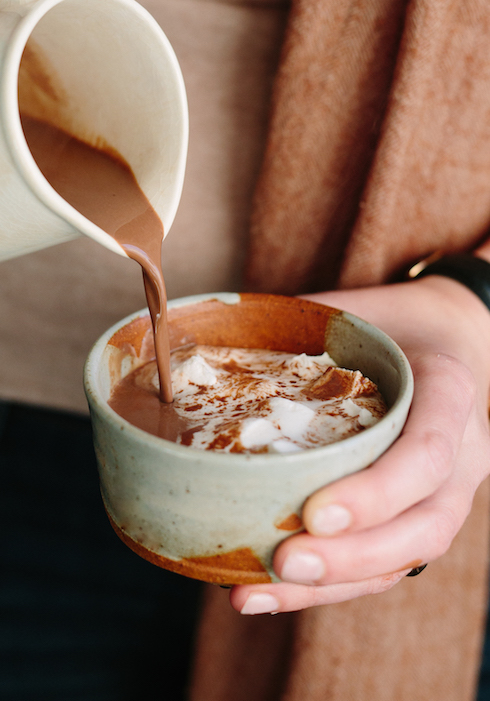 When I watched the movie Chocolat back in 2000, there was one scene that mesmerized me completely: Juliette Binoche poured a cup of devilishly dark hot chocolate with a pinch of hot chilli pepper for Judi Dench.
That cup of hot chocolate has been in my dreams since that day. I've tried to recreate it numerous times, and my conclusion is that you really need to go overboard with the chocolate content in order to get it that dark and that glossy. Almost like 100% melted dark chocolate and very little milk (or no milk at all). Of course I'd be able to drink that kind of thing (with my decadent appetite), but most people won't. And it would cost a fortune to make a liter.
There are purists who believe that hot chocolate shouldn't contain milk or cream at all, adding some water instead for the right consistency. I can appreciate that, but I do love the silky texture of cream and milk with hot chocolate (especially because I know that my daughter and husband are such dairy lovers).
So I decided to create a hot chocolate that would come as close as possible to that of Juliette Binoche, without being totally over the top. The right amount of sweetness, bitterness, creaminess, spice and texture. It is  made with real chocolate, cocoa powder, brown sugar, milk, cream, vanilla, spices and just a teaspoon of corn flour for a luxuriously thicker texture. Pour into mugs, add marshmallows and let it melt for a few minutes before serving.
Nothing can beat this on a cold winter's evening. Happiness in a mug!
Ingredients: (serves 4-6)
3 cups milk
1 cup cream
150 g dark chocolate, chopped (at least 55 %)
30 ml cocoa powder
5 ml corn flour
15-30 ml brown sugar (to taste)
5 ml vanilla extract
a pinch of ground nutmeg
a pinch of ground cinnamon
a pinch of ground chilli powder
marshmallows, to serve
Method:
Heat milk and cream in a medium saucepan until very warm (not boiling). Remove from the heat and add the chocolate. Stir until the chocolate has melted completely.
In the meantime, mix the cocoa powder and corn flour in a cup. Add some of the warm milk mixture and mix to form a smooth runny paste.
Add the paste to the warm milk, along with the brown sugar, vanilla and spices. Stir with a whisk over medium heat until the mixture is smooth and comes to a boil and thickens slightly.
Remove from the heat and pour into mugs. Top with marshmallows, allow to melt for a few minutes, then serve immediately.
Save