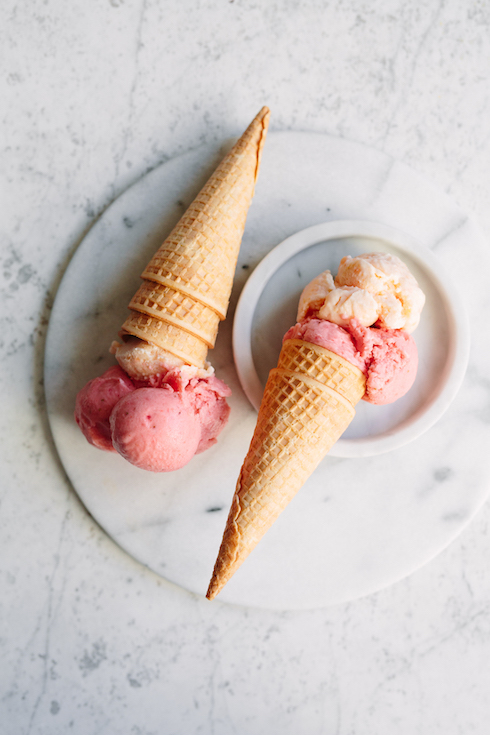 If there's one dessert that everyone loves in the hotter months, it's ice cream. Dreamy cones of delicious, ice cold creaminess. Unfortunately most ice creams are quite rich in calories (because good ice cream really needs lots of cream) and sugar. If you've ever tried making your own, you probably know that a proper home-made custard in a proper churner works best. But very few of us has ice cream churners at home, and very few of us will take the time to make a custard from scratch to start with – it can be quite intimidating. Although I have to mention: the end result totally justifies the effort.
So what's the alternative? If you really want to enjoy a homemade cold treat with half the effort and more than half the kilojoules, try this: an easy frozen yoghurt made from freshly frozen chunks of banana and other fruit, double cream yoghurt and honey. Whizzed in a food processor (or blender). That's it.
I've seen various versions of this mixture all over the internet, but the basics stay the same. Cut fresh banana and fruit into smallish chunks, freeze in a single layer, pop into your processor with the yoghurt and honey, and give it a whiz. The banana is essential as it provides the smooth, thick texture that we all associate with proper ice cream. It's all natural, it's beautiful, and it tastes delicious.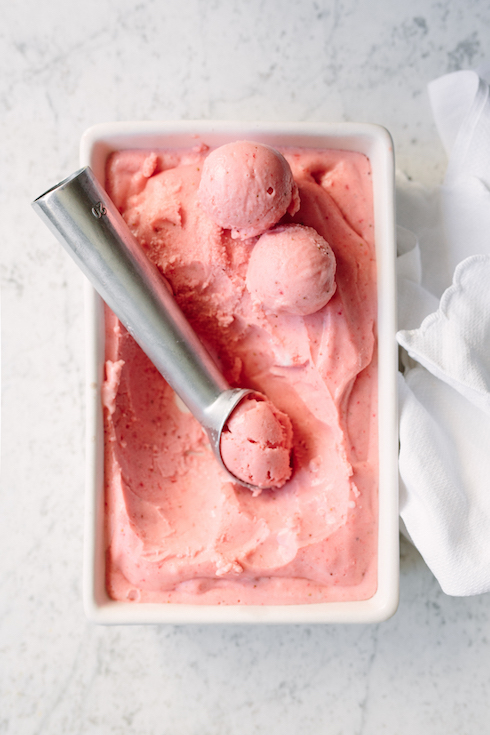 Ingredients: (makes about 1 liter)
2 medium-small bananas (peeled and cut into bite-size chunks)
roughly 400 g ripe strawberries, stalks removed and cut into chunks (or ripe paw-paw or other soft fruit of your choice, peeled and cut into chunks)
500 g double cream yoghurt
1/4 cup honey (adjust to taste)
Method:
Place the banana and fruit on a small tray in a single layer. Freeze for 2-3 hours.
Place half the frozen fruit with the yoghurt and honey in a food processor. Process until the mixture is smooth and thick, then add the rest of the fruit and blend. It should resemble soft serve consistency. Taste and add more honey if needed.
Place in a plastic container with lid, then refreeze for at least 3 hours until ready to serve.
Note: If your food processor is struggling to process the frozen chunks, start by adding a few chunks at a time with the yoghurt, continuing until all the fruit is mixed. A stronger machine works easier.
PS: Frozen fruit that have spent more than 3 hours in the freezer might become very hard to process with regular smaller machines. Leave them out of the freezer for 15 minutes before processing.