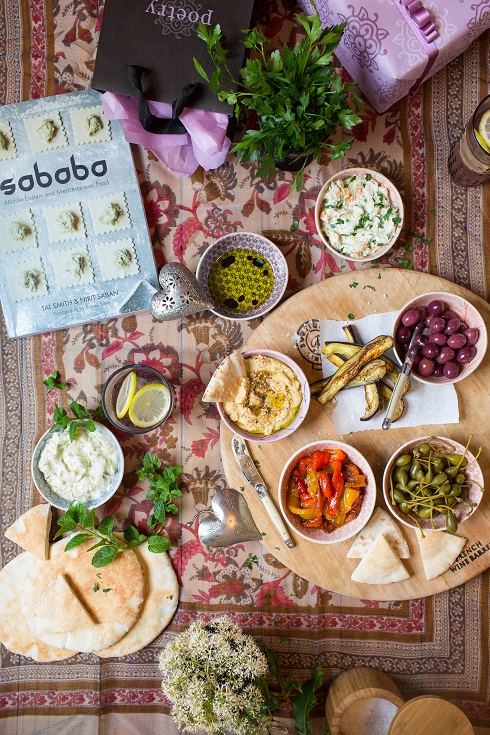 This Mother's Day, dare to do something different and exotic for your Mom with a Middle Eastern and Mediterranean mezze platter!
The team from Poetry stores have asked me once again to do something special for a Mother's Day feast. I've chosen one of the brand new books from their shelves: Sababa – Middle Eastern and Mediterranean Food by Tal Smith & Nirit Saban, photography by Russell Smith. Tal and Nirit are sisters, and Tal is married to Russel, so this book has a strong family element to it. Sababa is the name of their two kitchens in Cape Town, one in the city bowl and one in Sea Point. Their strong Middle Eastern roots are the major influence for their choice of beautiful salads, mezze, dips, roasts, bakes and cakes.
I've chosen a few basic recipes for the perfect mezze platter at home this Mother's Day. As Tal & Nirit suggest, try to choose at least 6 individual dishes along with pita bread or Iraqi laffa bread, some of which you can buy in any store (olives, pickles, etc.), and some that you can make yourself (hummus, snoek dip, tzatziki, roast aubergines, marinated peppers etc.).
All of the dishes can be prepared in advance, so it's the perfect feast to plan ahead so that you can relax with your guests when it's time for lunch/dinner.
This Sunday will be my third official Mother's Day – what a privilege to have a beautiful, healthy daughter! I'll also be calling up my Mother Erna in Keurboomstrand – she's a truly special woman and I'm so thankful to have her in my life.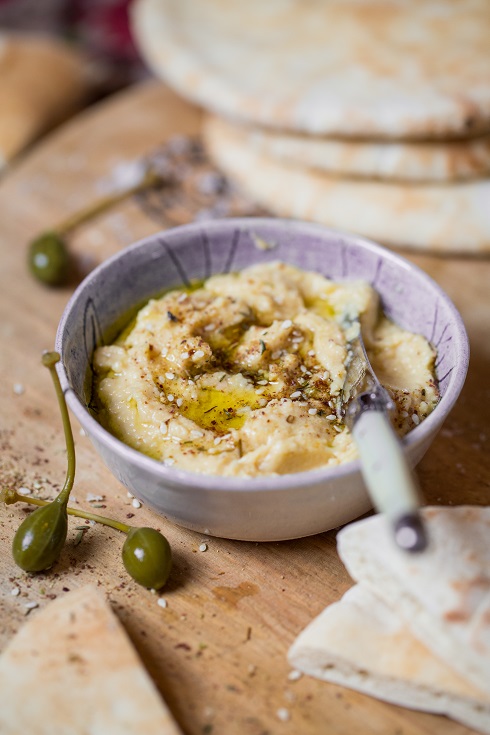 Ingredients for Sababa's Israeli hummus:
Note: This is a very special recipe, as it shows you how to cook the chickpeas from scratch. It also contains a lot more tahina than most other Mediterranean hummus recipes, and no olive oil (except for topping).
500g dried chickpeas
10 ml (2 t) bicarbonate of soda
6 cloves of garlic
1 cup (250 ml) fresh lemon juice
3 cups (750 ml) tahina paste
5 ml (1 t) salt
200 ml hot water
5 ml (1 t) ground cumin (optional)
olive oil and zaatar spice for serving (optional)
Method:
Soak the chickpeas overnight using 3 times the amount of water with 1 teaspoon bicarbonate of soda. Strain the chickpeas through a colander the next day and rinse under cold water.
Boil the chickpeas in a pot with double the amount of water and 1 teaspoon of bicarbonate of soda and cook until the chickpeas are soft and almost falling apart. Strain and allow to cool.
Blend with the rest of the ingredients until smooth, then serve topped with extra virgin olive oil and zaatar spice.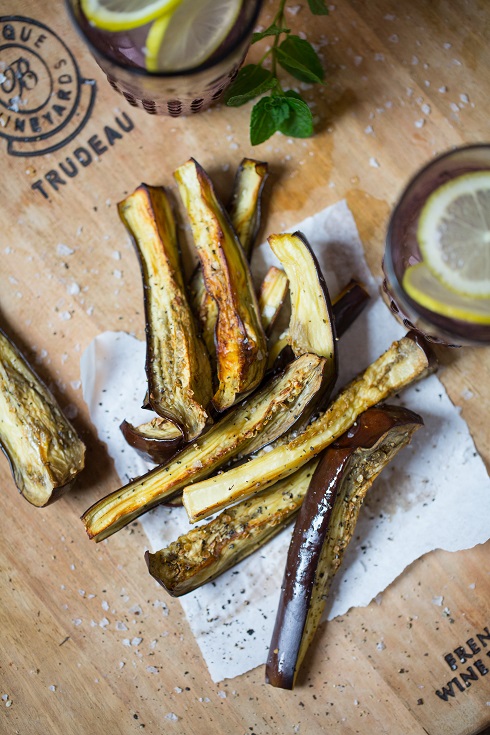 Ingredients for Sababa's roasted aubergines:
Note: Tal and Nirit have written a whole page in their book about aubergines: selecting, salting, roasting and charring. Their tips are very valuable. They mention that they still prefer to pre-salt their aubergines, although most aubergines on the market today are not bitter inherently anymore. So the choice is yours! These aubergines also work very well in salads.
medium sized firm aubergines (1 serves about 2 people)
olive oil for brushing
salt & pepper
Method:
Cut the aubergines into wedges, then salt them for at least 15 minutes. Wipe them clean with a cloth.
Arrange on a baking tray, then use a pastry brush to brush all sides with olive oil. Season with salt & pepper.
Bake at 180C for about 30 minutes until soft and browned.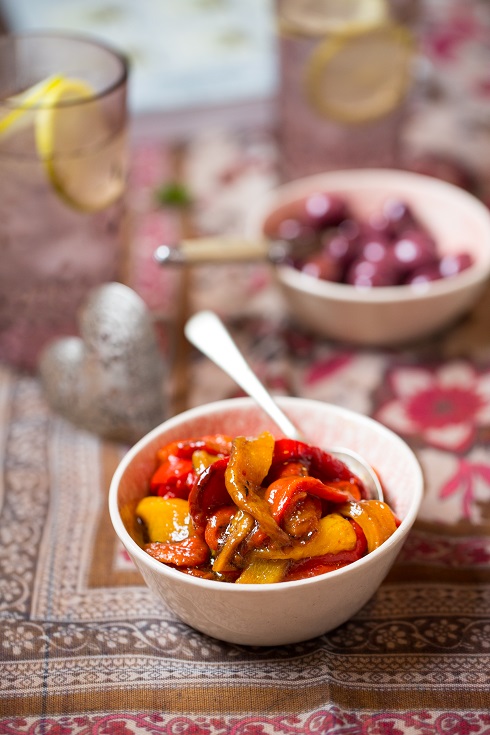 Ingredients for Sababa's marinated peppers with lemon: (serves 10-12)
Note: There are 2 different recipes for marinated peppers in their book. I've chosen the one with lemon as opposed to vinegar.
5 red peppers
5 yellow peppers
3 cloves garlic, crushed
4 lemons, juiced
1 cup (250 ml) extra virgin olive oil
salt to taste
Method:
Char the peppers on an open flame or on the braai until blackened (I roasted them in my oven for about 25 minutes on 230 C). Once they are ready, place them in a plastic bag to steam and cool for about 20 minutes.
Remove the skin and seeds and wash them under cold running water. Cut the peppers into strips.
Combine the garlic with the lemon juice, olive oil and salt. Place the peppers in a dish, pour over the liquid and mix everything together.
Leave to cool, then keep the dish covered in the fridge overnight before serving at room temperature. They will last a month in the fridge.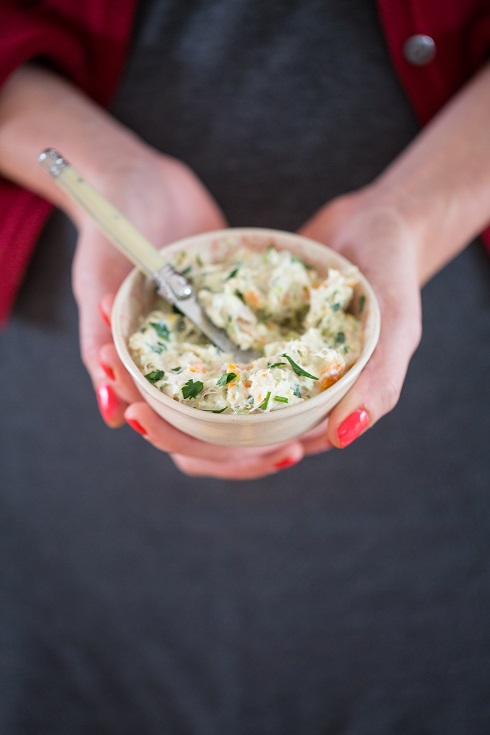 Ingredients for Sababa's smoked snoek dip: (makes about 600 ml)
200g smoked snoek
half a red onion, diced
handful of Italian flat-leaf parsley, chopped
2 spring onion, chopped
100 ml cream
3 T (45 ml) mayonnaise
salt & pepper to taste
1 lemon, finely grated zest & juice
extra virgin olive oil and more chopped parsley, to serve (optional)
Method:
Shred the snoek making sure you get rid of all the bones and skin.
In a tall cup using a stick blender, blend the rest of the ingredients together, then mix by hand with the flaked snoek. Leave in the fridge for an hour before serving.
Credits:
This post was written and composed for Poetry stores by Ilse van der Merwe from The Food Fox.
All recipes from Sababa by Tal Smith & Nirit Saban, available at Poetry stores for R299.
All homeware were supplied by Poetry stores, and are available in-store.
Grey glasses: R35 each
Laguiole mini cheese knife & mini spreader: R150 each
Iron heart napkin rings: R40 each
Wonkiware ramekins, blue & red: R75 each
Wooden board, medium round: R499