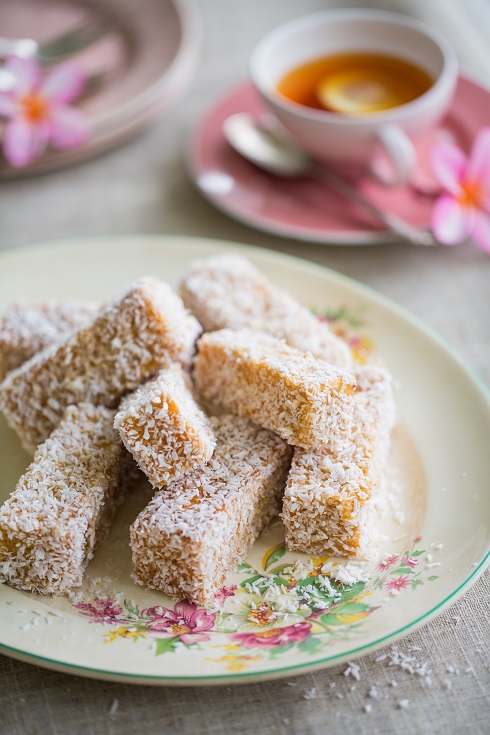 My Mother used to make us lamingtons very often when we were kids. It was an easy and economical sweet treat, loved by young and old alike. We called them "krimpvarkies" (porcupines), because of their spiny appearance.
I only recently learned that lamingtons are from Australian origin, and that they traditionally contain some kind of filling. In South Africa, we just dip squares of sponge cake in chocolate syrup, then cover them in dessicated coconut.
For a caramel twist on this classic favourite, I changed the traditional shape to a rectangular finger instead of a square, and made a quick 2-ingredient caramel sauce instead of the usual chocolate variety. They are so much easier to eat this way, and they look quite beautiful if I may say to myself! The sauce is made from canned caramel treat (also called dulce de leche abroad) and half a cup of warm milk – blitzed to a smooth sauce. This simply cannot be easier. If you have young kids, ask them to help you with the dipping part of the process.
To cut even more corners, you can use a store-bought sponge cake instead of baking it yourself. Everybody loves shortcuts when it comes to cooking!
Ingredients for the sponge cake:
 4 XL eggs
300 ml (250 g) caster sugar
500 ml (280 g) cake flour
15 ml baking powder
a pinch of salt
250 ml milk
100 g butter
5 ml vanilla essence
Method:
Pre-heat oven to 180 C. Line a large rectangular baking/roasting tin with non-stick baking paper.
Beat eggs and sugar until light and fluffy.
Sift flour, baking powder and salt together, then fold into egg mixture.
Heat milk and butter until butter is melted, but don't let it boil. Add vanilla, then fold into flour and egg mixture.
Pour batter into lined tin, then bake for 25 minutes until cooked and golden brown.
Remove from oven, and cool on a wire rack.
For the caramel sauce & assembly:
125ml (1/2 cup) milk
1 can (385g) Nestlé caramel treat (or dulce de leche)
1 cup dessicated coconut (for dipping at the end)
Method:
Bring the milk to a boil, then remove from heat immediately. Pour into a blender cup, add caramel, then use a stick blender to blend to a smooth sauce (the caramel burns easily on the stove top, that's why I prefer not to add it to the warm pot)
Cut the cooled cake into fingers, about 3 x 10cm. Dip them one by one into the slightly warm caramel sauce, and then immediately into the coconut. Leave to dry for at least 15 minutes on a wire rack, then store in an airtight container.
Note: The longer you dip the cake fingers into the sauce, the more sauce it will absorb. Also, if the sauce is cold when you dip the cake, it will absorb less sauce. Adjust to your liking, and place the sauce in the microwave for a few seconds to reheat if necessary.
Credits:
This post was originally written for The Pretty Blog by Ilse van der Merwe from The Food Fox.
Recipe, food preparation and text: Ilse van der Merwe
Photography: Tasha Seccombe
Styling: Nicola Pretorius