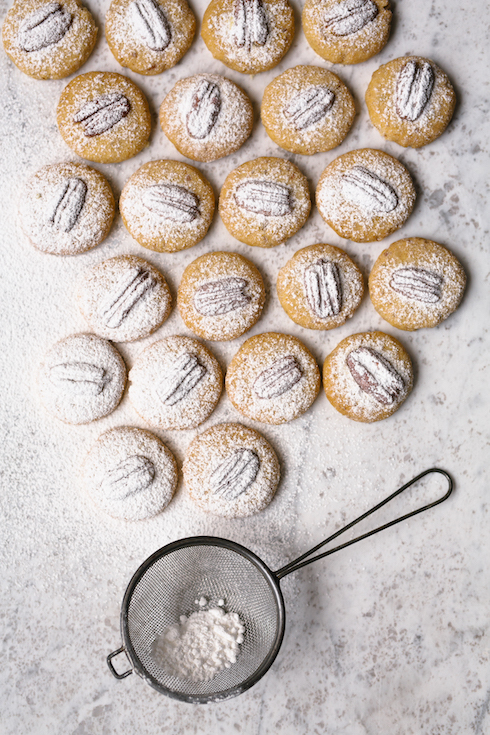 This is a magnificent recipe from my very first handwritten recipe book that I compiled as a child in the early 1990's. It reminds me of the icing sugar dusted shortbread that I saw in almost every confectionery shop while traveling in Greece in 2010 (except they mostly had a crescent shape).
Unfortunately I have no idea where this recipe came from, and thus cannot give the rightful credit to the writer. If anyone out there recognizes this exact recipe or can identify the origin, please let me know.
This cookie is like an ultimate nut-flavoured shortbread. It is luxurious, yet really easy to make. I absolutely love pecan nuts, and this cookie catches the essence of pecans in one buttery, delightful bite.
Note: These cookies were photographed in 2015, but I never posted it on my blog! Now that I've recently settled into a new kitchen that is much bigger than my previous one, I've got my baking mojo on and I'm ready to explore some of my best older recipes and definitely many new ones. Hope you love this one!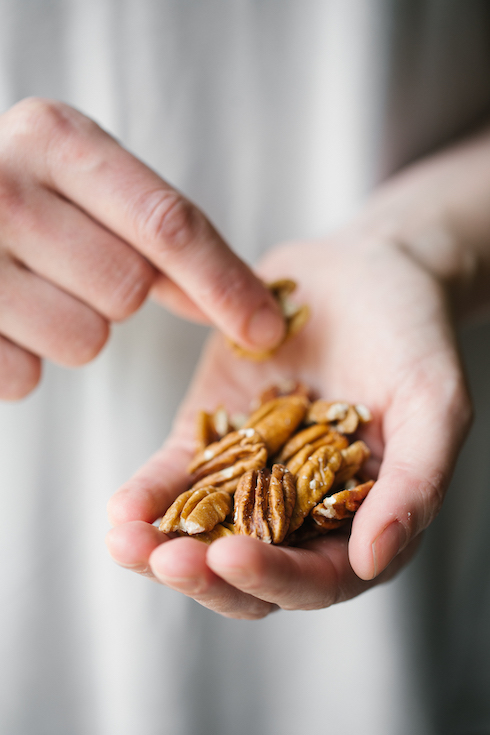 Ingredients: (makes 20-24)
125 g butter, soft
250 ml (140 g) self-raising flour
50 g pecan nuts, finely chopped
2,5 ml vanilla extract
50 ml (25 g) icing sugar, plus more for dusting
20-24 whole pecan nuts
Method:
Pre-heat oven to 160 C and line a large baking tray with non-stick baking paper.
Place all the ingredients except for the whole pecan nuts in a food processor or stand mixer and mix until it comes together in a ball of dough. Do not overmix.
Roll balls of dough about the size of a small walnut and place on the lined tray, leaving enough space in between. Use the back of a water/whiskey glass (flat surface) to flatten each cookie. Dip the flat glass surface in flour if it starts to stick.
Place a whole pecan nut in the middle of each cookie and gently press to stick. Bake for 25 minutes until lightly straw coloured, not brown.
Remove from the oven, then immediately dust with icing sugar using a sieve. Leave to cool completely, then store in an airtight container for up to 2 weeks.