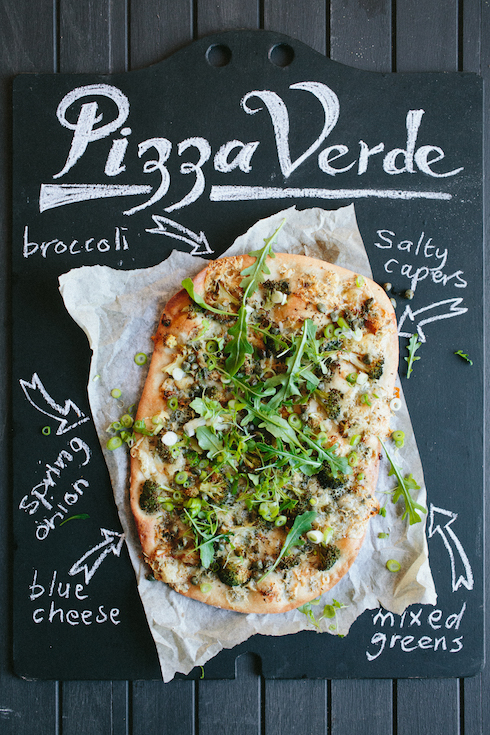 There is something really beautiful about a pizza topped with only one colour – in this case green. I've made hundreds of pizzas in my life, mostly with a traditional red tomato base sauce and some without the sauce (a white pizza, also called pizza bianca). So technically this is a white pizza topped with green ingredients and no mozzarella, only a few chunks of Danish blue cheese (with a greenish colour). I've added a mixture of green ingredients with really intense flavours, like very salty capers, fresh peppery greens and earthy broccoli. The broccoli and blue cheese really works together, especially when they get all toasty in a very hot oven.
If you don't like broccoli or any of the stuff I've chosen, just substitute it with your favourite green veg and leaves and give it a try. It's a fabulous informal starter, cut into squares or slices, but also a great light lunch or supper.
For the dough: (makes 2 tray-size pizzas or 3 regular round pizzas)
2 cups (500 ml) cake flour or white bread flour
10 ml instant yeast
2,5 ml salt
5 ml sugar
3/4 cup (180 ml) luke warm water
olive oil, for greasing the bowl
Mix the dry ingredients together in a large mixing bowl. Add the water and mix with your hands until it starts to come together, then press into a ball and start kneading. Knead to a smooth soft ball of dough, about 5-10 minutes. Oil the inside of a clean large bowl, then place the dough in the bowl and cover with plastic wrap. Leave to stand in a warm place to rise until doubled in size – about 30 minutes.
For the pizza toppings, per tray size pizza:
a small head of broccoli, cut into florets
100 g blue cheese (or feta, or goats cheese)
a handful capers
a bunch of spring onion, finely sliced
a handful of greens, including rocket and baby spinach
a drizzle of olive oil
Pre-heat oven to 230 C.
On a clean surface dusted with flour, divide the dough into 2 or 3 balls, then roll out each one with a flour-dusted rolling pin until very thin. Transfer to a large baking tray lined with non-stick baking paper.
Top the pizza dough with small broccoli florets, crumbled blue cheese and capers. Bake at 230 C for around 7 minutes (or until golden brown on the edges), then remove from the oven. Transfer to a wooden board, then top with spring onion, fresh green leaves and a drizzle of olive oil. Serve at once.