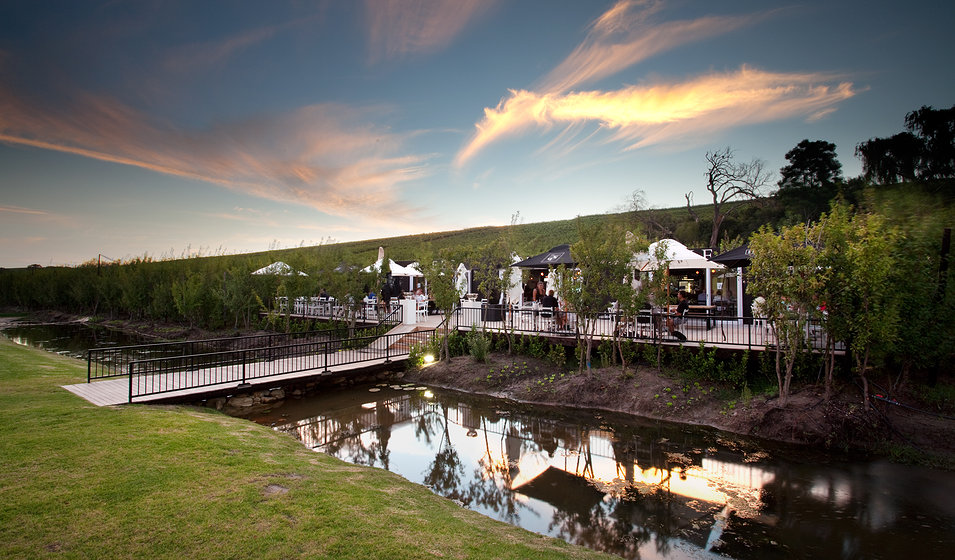 I was invited to Brenaissance Wine & Stud Estate's Café Blanc de Noir for lunch last week. They are situated in the beautiful Devon Valley on the outskirts of Stellenbosch, a relatively new project by owners Tom and Hayley Breytenbach (the Café opened in 2012).
Having heard of Brenaissance's pizza and wine pairings, me and Schalk decided to try it out. Café Blanc de Noir is suitable kitted out in black and white, and the building has a strikingly modern yet rustic appearance.

After getting seated, we ordered the pizza and wine pairing from the menu, and our waiter explained how it would work. We each received a large laminated placemat with info about each of the 4 wines that we were about to drink, and then there was space for a rectangular wooden board  containing a rectangular pizza with 4 different topping combinations. Brenaissance's signature rectangular pizzas are made by rolling out their pizza dough by hand, paper thin, and then using a large rectangular cutter (like a large cookie cutter) to standardize each one. The dough is pre-baked, then stacked for later. They use a wood fired oven and the pizzas have a very nice char on the edges – just the way I like it.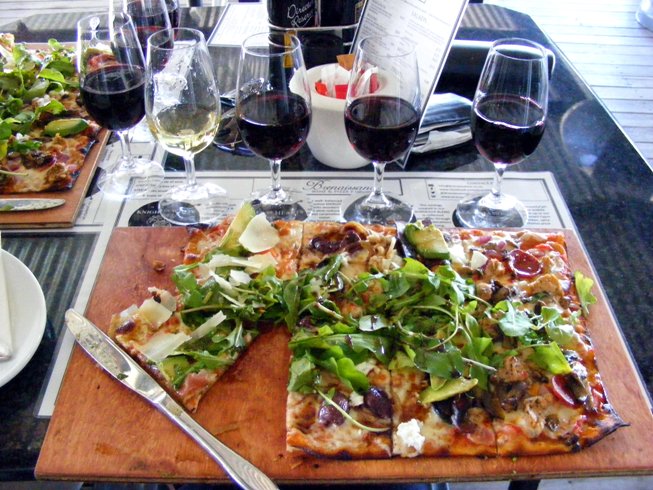 Here is the full description of Brenaissance's Café Blanc de Noir pizza & wine pairing (R160/person):
Parma ham pizza with garlic, rosa tomatoes, avo, mixed greens, parmesan shavings and pesto olive oil, served with Brenaissance Knight of White Chardonnay 2010
Caramelised onion pizza with kalamata olives, danish feta, mixed green & balsamic glaze, served with Brenaissance Queen of Hearts Merlot 2010
Biltong pizza with sweet fig, danish feta, mixed greens & balsamic glaze, served with Brenaissance Full House Bordeaux Blend 2010
Cajun chicken pizza with chorizo, red onion, mushrooms, mixed greens and chilli infused olive oil, served with Brenaissance Jack of Diamonds Shiraz 2009
My favourite pizza combination was the first option with parma ham and avo – really delicious! But I have to say that Brenaissance's wines completely blew us away. All 4 wines that we tasted were superb quality, and I would seriously recommend a wine tasting at Brenaissance for true wine lovers who want to discover something new.
The atmosphere at Brenaissance was relaxed and the pizza was really scrumptious. The venue is child friendly with a large play area across the stream (in full view of the parents, don't worry!). This place will certainly be a huge hit in warmer weather, for lazy lunches and wine tastings with lots of friends and family.
Contact Brenaissance's Café Blanc de Noir on 021-200 2644 for bookings. They also have facilities to cater for events, weddings and accommodation.
Thank you very much to Brenaissance for the lovely lunch, we'll be back soon!