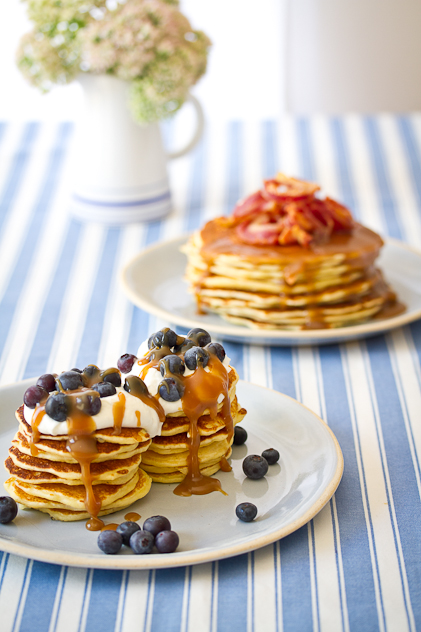 Do you ever make a special breakfast for your loved one on a Saturday morning? I must confess: I rarely do. I usually just relish the idea of not getting up too early over the weekend, planning a day of leisurely Winelands drives with my family or maybe a visit to a market involving minimal effort. Or maybe just a day away from the stove (although the stove is my other longterm lover…).
But wouldn't it be nice to wake up to the smell of a really special breakfast, made by your loved one? Or better yet: waking up your loved one with a really special breakfast that you made yourself? We don't need to have special days like Valentines Day to spoil our better halves. I promise you: taking the initiative to treat your guy/girl to a special wake-up treat just might score you the kind of serious brownie points you need. It's on the same level as surprising him with tickets to the game, or pitching up at her office with a bunch of fresh flowers.
So, whether you are a really hungry bacon-kind-of-guy, or a more dainty blueberry-kind-of-girl (or vice versa), everybody loves flapjacks and no-one can resist thick old-fashioned caramel sauce. This light flapjack batter can make the smallest of Russian blinis, or the largest American pancakes – it is really versatile and easy enough for even an inexperienced cook. All you need is a non-stick pan and a stove-plate on medium heat. The rest is elementary, my dear.
PS: The caramel sauce is great on EVERYTHING (even on it's own, eaten with a spoon from the jar). So store it in the fridge and it will keep for at least 2 weeks. Actually, I will be surprised if you have the willpower to keep it that long.
Flapjack batter: (recipe from The A-Z of Food & Cookery in South Africa by Sannie Smit & Margaret Fulton)
500 ml (2 cups) self-raising flour
2,5 ml (1/2 t) salt
10 ml (2 t) sugar
3 eggs
450 ml milk
60 g butter, melted
Method:
Sift flour and salt together in a bowl, then sprinkle sugar over.
Lightly whisk eggs with milk, then pour over flour. Stir until all the flour is moistened, but still lumpy.
Lightly stir in the melted butter.
Heat a non-stick pan over medium heat and spray once with non-stick spray (or lightly wipe with oil). Pour in batter to make pancakes: 15 ml at a time for small flapjacks or roughly 50 ml for large flapjacks. Tip: for large flapjacks I gently spread the batter into a circle just atter pouring it into the pan.
Cook until bubbles start to form on the top, then flip over and cook on the other side until golden brown.
Serve stacks of flapjacks with caramel sauce (or maple syrup) and bacon, or blueberries and whipped cream.
My favourite caramel sauce:
125 g butter
250 ml (1 cup) firmly packed treacle sugar (or soft brown sugar)
250 ml (1 cup) cream
Method:
Melt butter on medium heat on the stove top, then add sugar and stir until dissolved.
Bring to the boil, then boil for 3 minutes (it will look "foamy") while stirring well.
Remove from heat, then stir in cream. Stir very well until fully incorporated and glossy. Serve hot or at room temperature (sauce will thicken on standing). Store in the fridge.