15 Dec
It was such a treat to discover this new book on the shelf at Poetry stores – Share: The Cookbook.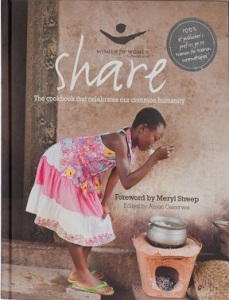 It is a celebration of women who have survived war and conflicts, but also a celebration of the foods that nourish and bring us together. Recipes such as Nigerian Beef and Okra Soup, Rwandan Chicken Casserole as well as magical images  of real people are laid out in surrounding pages. Between the beautifully simple recipes, women tell their stories of survival, determination and how they came to take part in programs offered by Women for Women International. A host of celebrities such as Jamie Oliver to Annie Lennox have contributed recipes bringing a diverse array of flavours and personalities to this unique book. 100% of the publisher's profits go to Women for Woman International. Share is much more than just a cookbook, it's written for people that are interested in issues of women's rights whilst celebrating our common humanity.
I've chosen a range of recipes as part of a festive spread in association with Poetry stores, using some of their beautiful homeware but also one of their fabulous new table cloths. The recipes are bright and tasty, yet simple and inexpensive. The flavour inspiration come deep from the hearts of Africa and India, intertwined by a common love of sharing food, recipes and love around our tables.
This book makes a great Christmas gift, and will remain a favourite in your kitchen but also on your coffee table.
Spinach & tomato dahl, by Peter Kindersley
2 tablespoons olive oil
2 red onions, finely chopped
4 garlic cloves, crushed
4cm piece fresh ginger, peeled & grated
1 green chilli, finely sliced
1 teaspoon cumin seeds
1 teaspoon ground coriander
1/2 teaspoon ground turmeric
1/2 teaspoon salt
250 g red lentils
400g canned chopped tomatoes
900 ml vegetable stock or water
400 g baby spinach
to serve: steamed basmati rice, naan bread, natural yoghurt, fresh coriander leaves and fresh lemon/lime wedges
Method:
Heat the oil in a large heavy lidded pan over medium heat. Add the onions, garlic, ginger and chilli. Cook, stirring often, until the onions are soft. Add the cumin, coriander, turmeric and salt. Cook and stir for 2 minutes until fragrant. Stir in the lentils, tomatoes and stock/water and bring to a boil. Cover, reduce heat to a simmer and cook for 20-30 min when the lentils are thick. Stir often to prevent sticking on the bottom. Fold in the spinach and cook for about 2 minutes or until just wilted. Adjust seasoning and serve with steamed rice, naan bread, natural yoghurt, coriander leaves and fresh lemon/lime wedges.
Kachumbari salad, by Craig Kielburger
450 g ripe, firm tomatoes, sliced or diced
1 red onion, finely sliced
25 g fresh coriander
1 chilli, sliced
50 ml extra virgin olive oil
1-2 tablespoons lemon juice
salt & freshly ground black pepper
Method:
Place the tomatoes in a salad bowl. Top with the sliced onion, coriander & chilli.
Drizzle with lemon juice, olive oil and season with salt & pepper.
Tandoori yoghurt chicken, by Bill McKibben
1 whole chicken (about 1,5kg) cut into 8 pieces, skin removed
1 teaspoon salt
juice of a lemon
500 ml Greek yoghurt
1 onion, coursely chopped
3 garlic cloves, crushed
3cm piece of ginger, peeled & grated
1-2 red chillies, deseeded & chopped
1/4 teaspoon ground turmeric
2 teaspoons garam masala
a drop of red food colouring (optional)
to serve: coriander leaves & lemon/lime wedges
Method:
Using a sharp small knife, cut deep slashes into the thickest part of the chicken, but do not cut as far as the bone. Place in a large mixing bowl, then sprinkle with salt & lemon juice. Set aside for 20 minutes.
Meanwhile, make the marinade: place yoghurt, onion, garlic, ginger, chilli, turmeric & garam masala in a food processor and process to a smooth sauce. Add the red colouring, if using.
Pour over the chicken, and rub into the slits. Cover and refrigerate for 8-24 hours.
Pre-heat the grill or fire, then cook the chicken for 20-25 minutes turning regularly. The chicken is cooked when there is no pink flesh and the juices run clear. Serve with fresh coriander and some lemon/lime wedges.
Orange scented olive oil almond cake, by Nell Newman
100 g almonds (or ground almonds)
100 g white rice flour
1/4 teaspoon baking powder
1/2 teaspoon salt
3 large eggs, separated
175 g white sugar
120 ml olive oil
2 teaspoons vanilla extract
1/2 teaspoon almond extract
finely grated zest of 2 oranges
60 ml orange juice
60 ml sherry
to decorate: orange segments/slices
Method:
Pre-heat oven to 180 C. Grease/line a 20cm springform round cake tin.
Toast the almonds in a dry pan over medium heat until lightly brown, then grind in a food processor. (alternatively use ground almonds)
In a mixing bowl, sieve the rice flour and almonds with the baking powder & salt.
In a separate mixing bowl, whisk the egg yolks and sugar until light and creamy. Now add the olive oil in a thin stream while whisking, following with the vanilla, almond extract, zest, orange juice and sherry. Fold into the dry sieved ingredients.
Using clean electric beaters, whisk the egg whites in another clean bowl until stiff peaks form. Now fold this into the yolk/flour mixture. Pour into the prepared tin, then bake for 30-40 minutes until light brown and an inserted skewer comes out clean.
Remove from oven, then allow to cool for 15 minutes before turning out on a clean folded tea towel. Invert onto a wire rack to cool completely. Garnish with flaked almonds and/or orange segments/slices, and serve with whipped cream or creme fraiche.
All recipes from "Share: The Cookbook", available from Poetry stores at R395.
All homeware, Wonkiware & wooden boards (except vintage brass cake plate, ladle and silver knife) available from Poetry stores.
Table cloth available from Poetry stores at R499 – available in blue or green.
Photography & styling: Tasha Seccombe
Text, propping, food preparation & styling: Ilse van der Merwe
Assistant & food preparation: Elsebé Cronjé
This post was written and executed in association with Poetry stores.